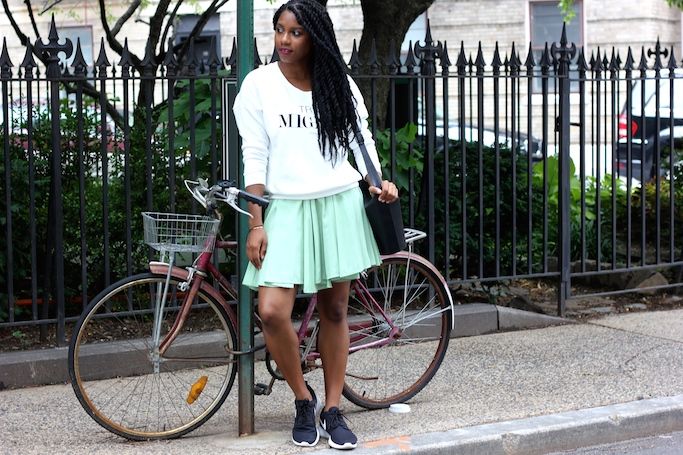 If i had unlimited funds, and had to choose a neighborhood in New York City to live in, it would definitely be the West Village. I love the quaint streets full of townhouses and the boutique shops. Not to mention this area has some of the best little secret restaurants as well. This weekend, I took a little trip to the West Village to eat at the french restaurant Buvette. It was recently featured for having the best breakfast in The Village Voice and being the foodie I am, I hurried down to try it out with my blogger bud Nigel.
Photography By Nigel Isaiah
Top: H&M | Skirt: American Apparel | Shoes: Nike Rosher Run | Bag: Vintage LV | Watch: c/o Guess Watches
Handpiece: c/o Midori Line
GET THE LOOK

I got this sweatshirt from H&M during the H&M x Jeff Koons Collaboration Grand Opening Party. It served me well since it was a little cooler on Sunday. I forgot that I had this awesome American Apparel skirt. It's one of my favorites and its the perfect length. Brunch at Buvette was nothing short of amazing. I opted for the eggs, salmon and toast with a cafe au lait and orange juice and an order of fresh croissants with jam. I almost ate the jam by itself. It was a mixture of berries and it was delightful. The eggs were ever so fluffy and everything was perfectly quaint and rustic and delicious. If you visit, try to get a seat outside on the patio.
xx
Monroe