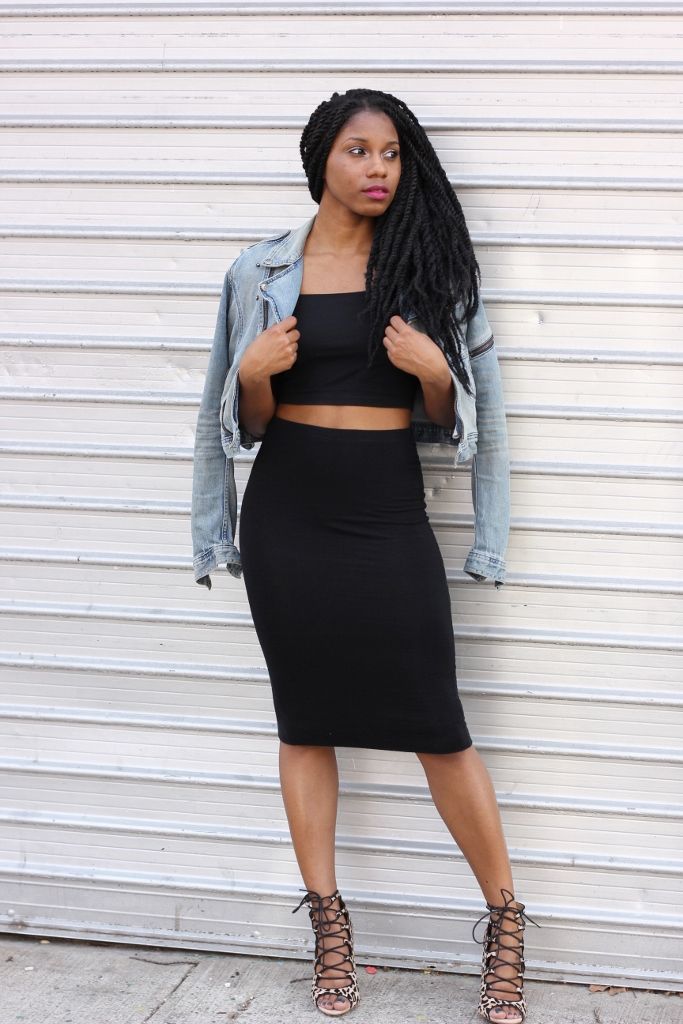 Well im actually not going out tonight but this is a prime going out outfit! This weekend I plan on resting myself because as soon as May hits in 5 days…I'm hitting the ground running for my EPIC MAY, which includes me partying myself senseless every weekend of May. Yes you heard correctly. I'm going to party the entirety of May. Why you ask may be asking…??? Well because damnit I'm turning 30! Yes DIRTY 30th. Finally I will be out of the angst known as my 20's and ready to experience what has been called the greatest decade of most peoples lives.
Top: American Apparel | Skirt: TOPSHOP | Shoes: Zara | Denim Jacket H&M
GET THE LOOK

I really love the leopard sandals I picked up at Zara last year. They aren't too high, yet really pop with jest about any outfit. You can see them worn differently HERE. This outfit is my interpretation of the trusty look Kim K has been working lately. Say what you will about her…she looks flawless. I love all the form fitting pencil skirts and matching crop tops she's been rocking the past few months. Hey when you find something that works for you run with it. I already know I'm going to live in the crop off the shoulder top this summer. This Jersey Pencil skirt is one of the best purchases I've ever made. It never wrinkles and its super comfortable.
Hope yall have a lovely weekend.
Ohhhh I almost forgot…If you are in the NYC Area make sure to check out the BRANDS AND BLOGGERS Networking Event in NYC on May 3rd! You wont believe the goodies we;re giveaway and the amazing brands such as Dark and Lovely!
xx
Monro