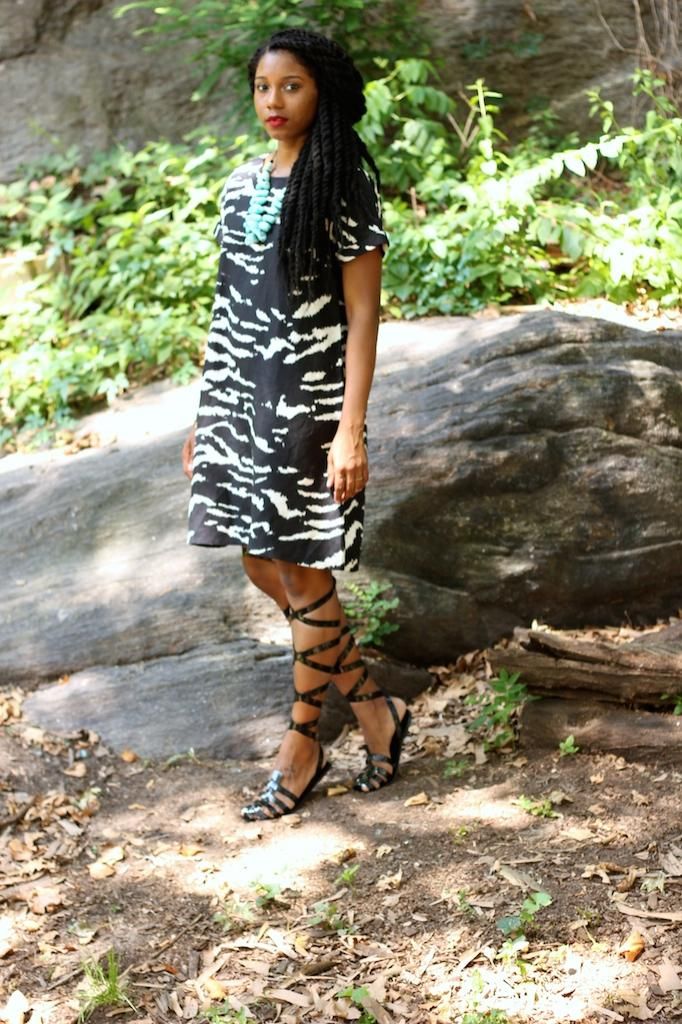 This dress is Zebra print, these lace up sandals are called ZEBRA by Loza Maleombho. It wasn't long before I put two and two together to make this outfit zebralicious.
Dress: MANGO | Sandals: Loza Maleombho
I am really getting into tent style dresses although they are quite hard to come by. I'm actually on the hunt right now for a crisp white one. I can see the endless possibilities with it. You can wear them with skinny jeans and a stiletto in the Fall and Winter and easy breezy with a sandal in the Summer and Spring. Sometimes my body needs a reprieve from body con and tight clothing. I actually don't mind looking like a bag, its all the rage.
I have tons and I mean literally tons ok…maybe pounds of necklaces that I have been neglecting. I go through my periods or huge earrings, tiny earrings, huge necklaces, no necklaces and only dainty necklaces. If you check my posts from the last 4-5 months you will see I'm on a simplistic kick with minimal earrings and dainty rings and handchains and watches. I also just did a little collaboration with Midori Line Jewelry to design my own simple yet chic handchain. But alas I think I'm back on statement necklaces!
Happy Monday and I hope everyone's week is off to a great start!
xx
Monroe