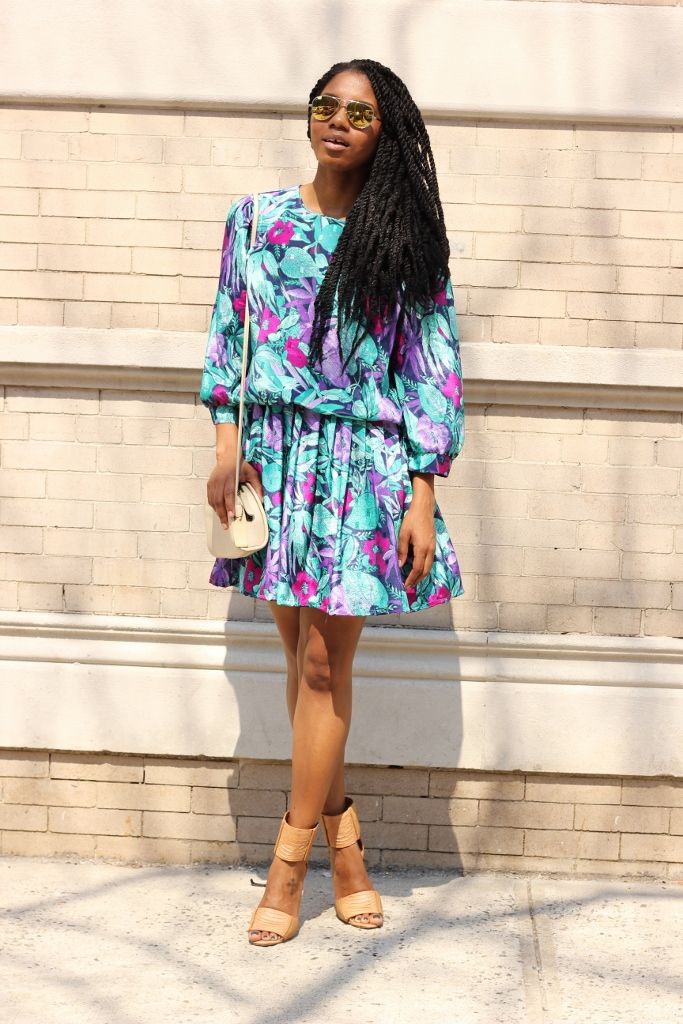 This past weekend had to be the best in terms of weather in NYC. It was actually summer and although I broke a sweat I did not complain! I am so ready for warmer weather. The sun is shining and the air is warm. I finally got to break out this thrifted reworked babydoll dress that I picked up while Thrifting in Paris.
Dress: Thrifted from Vintage Desir in Paris | Shoes: L.A.M.B. | Bag: Vintage Coach (Thrifted) | Sunnies: Vintage Caribe Thrifted in Spain
I know the print of this is a bit dated but I love it. I think the cut of the dress is very modern. At Vintage Desir in Monmartre in Paris the owner likes to take old dresses and rework them. This is one of 4 that I picked up…all for 10 euros each. I find that baby doll dresses such as this one and this one are more flattering on me. This dress had shoulder pads but I promptly ripped them out. Everything I'm wearing is thrifted except my shoes lol. Also this is my debut on the blog of my new Marley Twists! I love them so much more than the Senegalese Twists I had previously. If you are in NYC check out MorKinks for all your hair needs!
Ohh make sure to check out the Brands and Bloggers Networking Event in NYC on May 3rd!
xx
Monroe