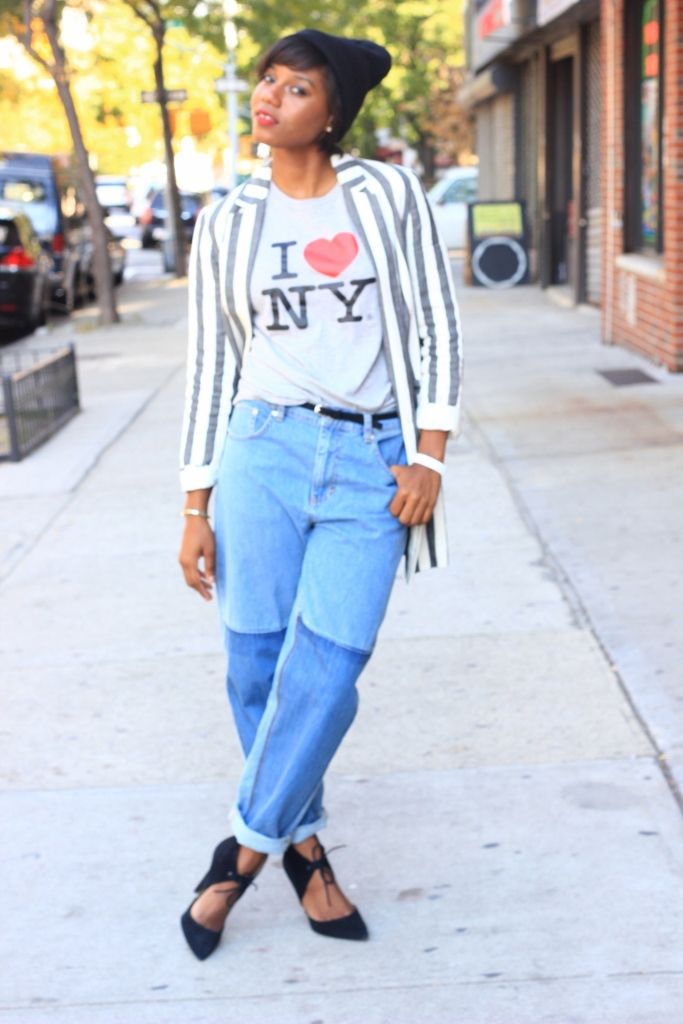 It's true I do love New York. It really does have its moments. I used to think of the shirts as being so cliche and that I wouldn't want to be caught dead in one. That changed when I planned my trip to Paris. All of a sudden I had the urge to profess to that city that although I was there…I am a through and through lover of New York. So I went down to St. Marks Place and I bought this t-shirt in both grey and white and have been wearing them non-stop.
Top: Random Vendor NYC | Blazer: Zara | Shoes: Zara | Beanie: American Apparel | Jeans: ASOS Monki
New York is a place for dreamers. I rarely meet people who are actually from New York in New York. Most of the people here come here from all over the world, with one goal in mind, to make it here! I began to feel a pull to New York when I was in high school and watching episodes of Sex and the City. I was convinced I would write and buy shoes just like Carrie Bradshaw. In college I was a senior features editor for my college newspaper and almost changed my major from Exercise and Sports Science to Journalism. I never made the change but some how I ended up only being accepted at NYU for graduate school. The other two schools I applied to I was denied. It was fate that I ended up here. New York is an awesome city, there is always something to do. People are hungry to succeed. The food is outstanding and the guys are cute. But New York is hard too. I've seen more than a fair share of people unable to make it here. They never get used to the noise (sirens and trains and late night drinkers). They find it hard to make lasting friendships because New York is so transient, people are so focused on their careers sometimes a social life is non existent if you aren't outgoing. It's really expensive and hard to find a stable job. The crime is plentiful and the streets are dirty. The rats have taken over whole parks. But there is still an electricity here that pulls people from all over the world. New York can be shitty but its still fabulous.