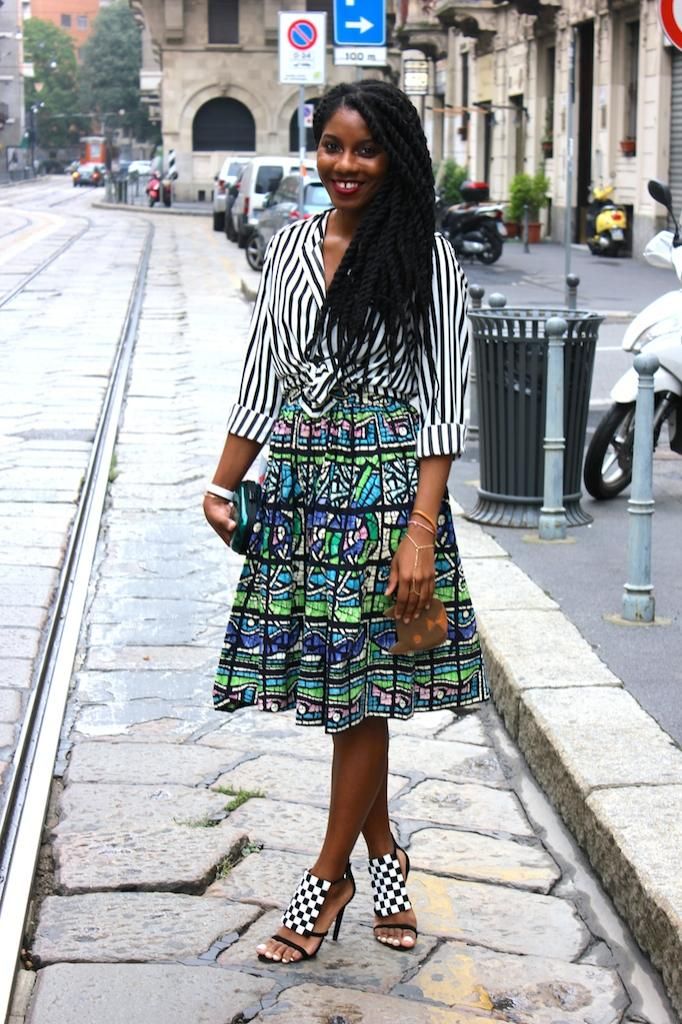 Whew, Milan Fashion Week is a whirlwind. It's definitely different compared to New York and Paris. It's a whole different kind of atmosphere. A more somber one if I must say. I have seen some pretty creative street style but I had this preconceived notion that Milan's fashion was colorful and wild and uninhibited. I definitely blame the street style stars for that! At more than a few events I've been EXTRA colorful and stuck out like a sore thumb. lol. It doesn't matter though, I appreciate being set apart and looking a little different (as if the hair, and the sheer fact that I'm black doesn't already do enough). I find that Italians really do love me and my style. I've had more guys wink at me in the 2 days I've been here than in my entire life. I've also noticed that the men are more than willing to do just about anything for you as long as you're nice. On more than one occasion we've needed someone to call us a cab, (Neither Jade or I have service out here and are relying on Wifi) and its never been an issue. My highlight of today was definitely going to the Jimmy Choo SS 2015 Presentation.
Photography by Jade B. Ford
Top: H&M | Skirt: Vintage from Stella Vintage in NYC | Shoes: Proenza Schouler | Clutch: BCBGeneration | Wristlet: Karen Walker | Handchain: Monroe x Midori Line
Today was jam packed full of shows. 6 show to be exact but I only made it to 4. It was simply too exhausting. Running around in heels on these old cobble stone streets, hopping in and out of cabs, standing and waiting and repeating. It was a bit much. So Jade and I decided to get a bite to eat and then visit the inside of the Duomo. The food…OMG the food. Besides living on 4 Euro pizza's from the pizzeria downstairs, I hadn't really indulged in the Italian cuisine. I've basically been living off champagne served at fashion shows and cafe au laits. Today we went to a real italian restaurant and I proceeded to eat the best Mushroom Risotto I've EVER and I mean EVER had in life. Mind you, I am a tried and true Risotto connoisseur. So I know good risotto from hotdamnthishellagood risotto.
We checked out the rooftop of the Duomo which was breathtaking and a little scary, (You all know how I am a little afraid of heights), and then we made our way across Duomo plaza to get some gelato. Of course I got the pistachio gelato…and that…dear food gawds…was magical. I can't explain it. If you love food…get your ass to Italy pronto.
Follow my Milan adventures at #MonroeDoesMFW on Instagram and Twitter
xx
Monroe