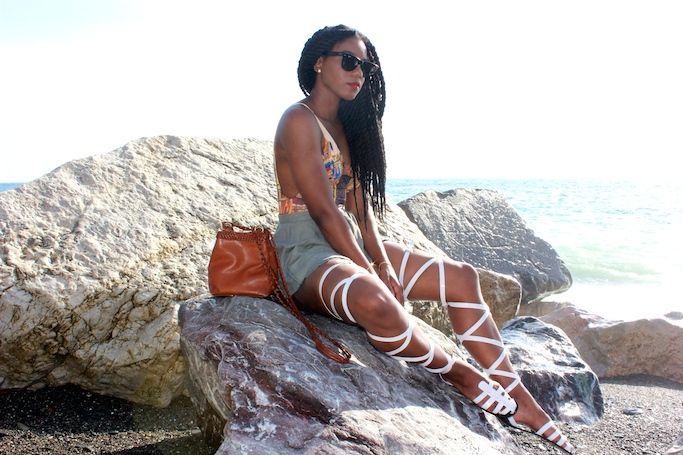 Our train was to depart Milan at 9:10 a.m. to venture to Cinque Terre and we stayed up all night just talking, doing blog posts and watching Gravity in our little slice of Milano Heaven. I set my alarm for 6:30 a.m and dosed off around 2 am. (only I set it New York time..instead of Milano time O-o). Jade sat up out of her sleep promptly at 7:55 am and her movement woke me. I immediately asked what time it was..and let out a heavy "FUCK!" when I heard it was 8 am. Needless to say, I hopped outta bed fast as all hell (thanking God I fell asleep in my clothes). We quickly packed, Jade managed to brush her teeth and wash her face. I wasn't so lucky. By the time we got outside to call a cab (cause you cant just hail one in Milan like in New York), I realized my pink EradiKate acne ointment was still on my face. I didn't give two shits and we were off with a speedy PRONTO to the taxi driver to Milano Centrale train station to catch our first class train to the magical town of Vernazza, one of the 5 towns that make up the lovely Cinque Terre in Italy.
Photography by Jade B. Ford
Bathing Suit : H&M| Shorts: Thrifted | Sandals: Loza Maléombo | Bag: Thrifted | Sunnies: Ray Ban | Handchain: Midori Line
We arrived to our tiny cellar apartment on a charming narrow staircase that whined up a pathway. The pinks, greens and yellows of the little houses filled every nook and cranny of space. It's the most beautiful little beach town set right on the Mediterranean sea. You can look out at the colorful houses with clothes dancing on breezes as they hang from the windows and clothing lines. The smell of fresh fish, salty sea and wine saturate every fabric of clothing. The sea is warm and refreshing. Everyone is happy, everyone is smiling and it's just awing to be in a place that I've always dreamed of being. Jade and I are causing quite a stir too with our hair and our skin. ITALIANS DO LOVE US! there..i said it. One man specifically told us he loved our skin and he said it with such passion and conviction I knew he had to be telling the absolute truth.
Our first stop was the lovely "new" beach. It's called the New Beach because before a major storm that hit Cinque Terre a few years ago..the beach didn't exist. The storm actually created a whole new rock beach. We took it all in, the sea, the rocks, the cave you have to walk through to reach the new beach. The large rocks, white and grey and even black, wet with sea spray and set against a large hill overlooked by a rock castle tower. We had a little impromptu photo shoot on the beach and caused quite a stir. There were "bella's and bellisima's" every few minutes or so…I definitely feel like I'm famous here. I've had people stop me to touch my hair and ask to take photos with me. It's kinda funny actually but also pretty cool. After the beach we took photos of the famous Cinque Terre harbor before dining on fresh seafood and getting drunk on white wine from grapes grown a couple of yards away.
I may never leave. This is my first swimsuit post btw..so YAY finally marked that off my to-do list!
Follow my Cinque Terre adventure on Instagram @monroesteele or hastag #MonroeDoesCT
xx
Monroe