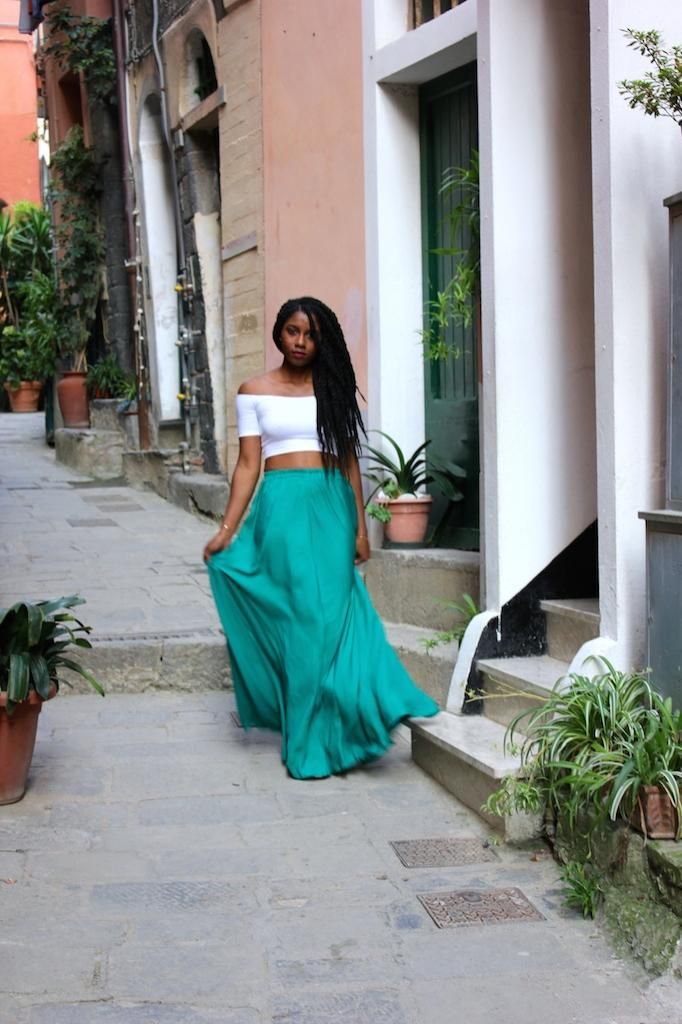 Jade and I met up with a few Italian men last night in the little harbor square of Vernazza. It was dimly lit and we all sat around a table drinking the best white wine I've ever had and talking about life and how different it is in the states versus Europe (or more specifically Italy). It was a good drunken time with the waves splashing against the rocks of the harbor. It was around 2 am that Jade and I made our way back to our room. We had planned to meet one of our new Italian friends David in the morning and he would guide us on the 1.5 hour hike to neighboring beach town Monterosso.
Photography by Jade B. Ford
Top: American Apparel | Skirt: Mango | Sandals: Loza Maleombho | Handchain: Monroe x Midori Line
We woke early and decided to walk around the secret tunnels, canals and passageways of our quaint town. Each way you turn there is a different staircase to take you down to the square or up into the hills. It's twisty and turny and you can easily get lost on the way to your abode if not careful. It's so lovely to discover new pathways, and look up only to see a terrace of people watching you intently and wondering what you are doing. We then met our guide David and started the journey to Monterosso. The hike is up very steep stairs. Hundreds and hundreds and hundreds of stairs some so narrow only one person can fit and some hovering over sheer cliffs that lead down into the Mediterranean sea.
The views were breathtaking..but I definitely almost died. I am not as in shape as I think I am..lol. But we pushed and pushed, through the heat, up the dirt paths, down the step steps, over trickling brooks, past a man selling grapes for 1 euro. (They were delicious by the way..even though a little dirty). The views over the cliff to the city of Vernazza were so beautiful. I could barely believe it was real. After hiking for 2 hours, we made it to Monterossa where I had the best pesto of my life, followed by a swim in a sea so clear you can see through to the sand below. We sat on beach chairs, under umbrellas and took in the cliffs and the large jagged rocks that jetted out from the sea. It was a morning of hard work…followed by a afternoon of leisure. We took the train 8 minutes back to our village of Vernazza and got back just in time to capture the perfect sunset.
Goodnight kiddos…im spent.
Make sure to keep up with my Cinque Terre adventures on Instagram @monroesteele or follow hashtag #MonroeDoesCT
xx
Monroe