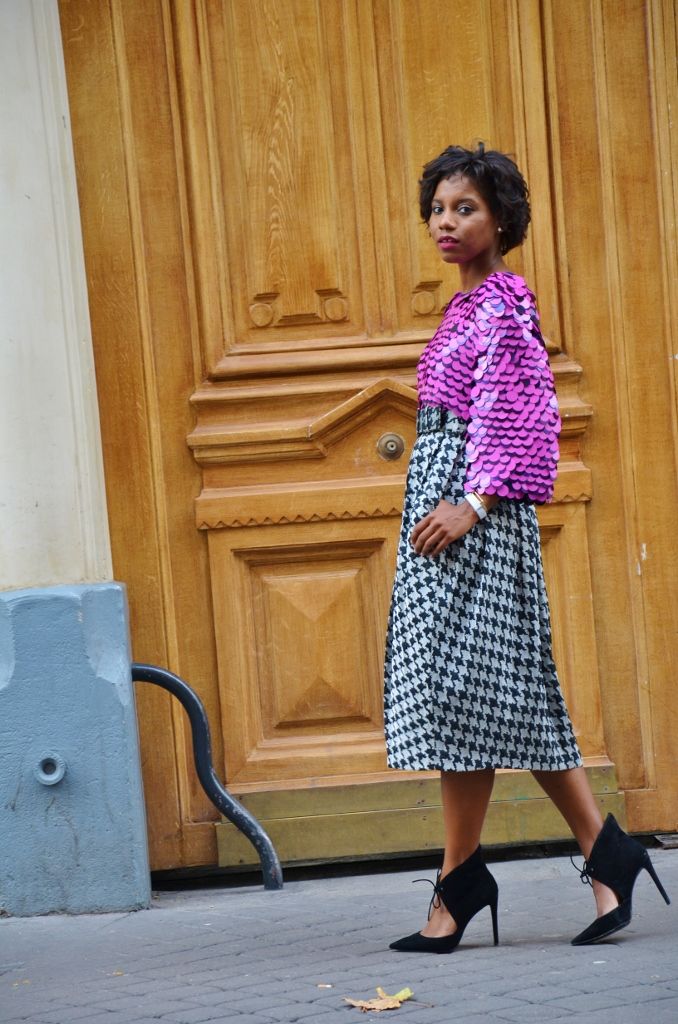 The Crying Lady
So I read somewhere that Parisians love love and that they are always fighting and making up and that you are bound at some point to see a lady crying. Well after being in Paris for 10 days that day was today for me. On my way to my first show…there she was. She got onto the train. Her hair was a little disheveled. She wore a navy blue dress with a gray cardigan and two inch strappy baby blue and brown sandals. She stood like her feet hurt but nobody offered her a seat. She looked at me briefly admiring my shoes and then my skirt and then my hair. Then she looked up at the ceiling. And back down at the phone in her hand. When a seat became available she sat. I could see tears welling in her eyes and I felt sad for her. She would look up at the ceiling every few seconds to keep the tears from falling and keep her mascara and eyeliner intact. Right before my stop I stood and again my shoes caught her attention. It seems that the sight of my shoes…made her forget what ever was making her cry. She looked up at me and with tears in her eyes she said in French "beautiful shoes".
I firmly believe money can't buy happiness but damnit if my shoes could make me and this woman happy…that's good enough for me!
Guy Laroche and onto Nicolas Andreas Taralis
I must admit Guy Laroche was the best show I've seen so far. So good and so wearable. He went a little sporty as well. There were tons of neoprene flouncy skirts and matching hoodies that I lived for. The show was at the Grand Palais and it was stunning. There were so many photographers that it was like a maze to get through to the door. It was super fun though, meeting so many other bloggers from all over the world.
After Guy Laroche I raced to the subway to the next show which was scheduled to start in 15 minutes. I was running on my tip toes and my feet already hurt like hell from yesterdays shoes. I was starting to sweat…profusely.
I was looking at a subway map, holding my invitation to the next show, when a gorgeous French girl in a green dress and hair braided in a Grecian crown showed me the same invitation. We were both on our way to the same show and helped each other figure out where we should go. I learned she was a writer for ELLE Paris and that she loves her job. She also loves New York. I find that all Parisians love New York. We got off a stop too early and had to practically run 6 blocks to the show. I was sweating so bad sweat was actually running down my legs. The show turned out to just be a digital show…and though it was pretty cool it was not worth the damage to my hygiene. Thank goodness it was a mere 5 blocks from my apartment. I went home immediately after and showered before taking a nap.
The smelly guy, the mouse and the tower at night
Last show of the day and it was at 8pm. I mustered the will power to get out of bed from my nap, throw on some sequins and into my fast flats. For the first time I wouldn't leave the apartment in heels for a show but instead packed them in one of my shoe bags and carried my heels along. My feet are blistered on both big toes. I made my way to Palais de Tokyo for Peachoo+Krejberg show. I changed into my heels at the bus stop around the corner. I'm almost sure my baby toe screamed. The show was interesting. I loved a few of the pieces. Very monochrome looks. I found a good spot to take photos but the guy sitting next to me smelled peculiar. At first whiff he smelled like a very weird cologne. But upon closer inspection or inhales, if you will, he smelled precisely like shit masked with very expensive cologne. For a moment I actually thought no…maybe I along the way to the show had stepped in dog shit. I even went so far as to check my shoes. But no if was definitely him.
How the girl sitting next to him could even breath without throwing up a little in her mouth, I'm not sure. After the show I joined
Claire from Fashion Bomb
for dinner around the corner at a very upscale restaurant. Over her red wine and my water and both of our salads we discussed everything bloggers could from monetizing blogs, to the bathing habits of Frenchmen. And then she said it…I just saw a mouse. Then I looked and there he was in broad restaurant light in a full restaurant just hanging out. I mean the audacity of him to show his face, and body here of all places. At least have the decency to come out when the restaurant is closed like any New York mouse would do. It was disgusting. We left immediately but not before crossing the street so I could see the Eiffel Tower at night….lights and all for the very first time.