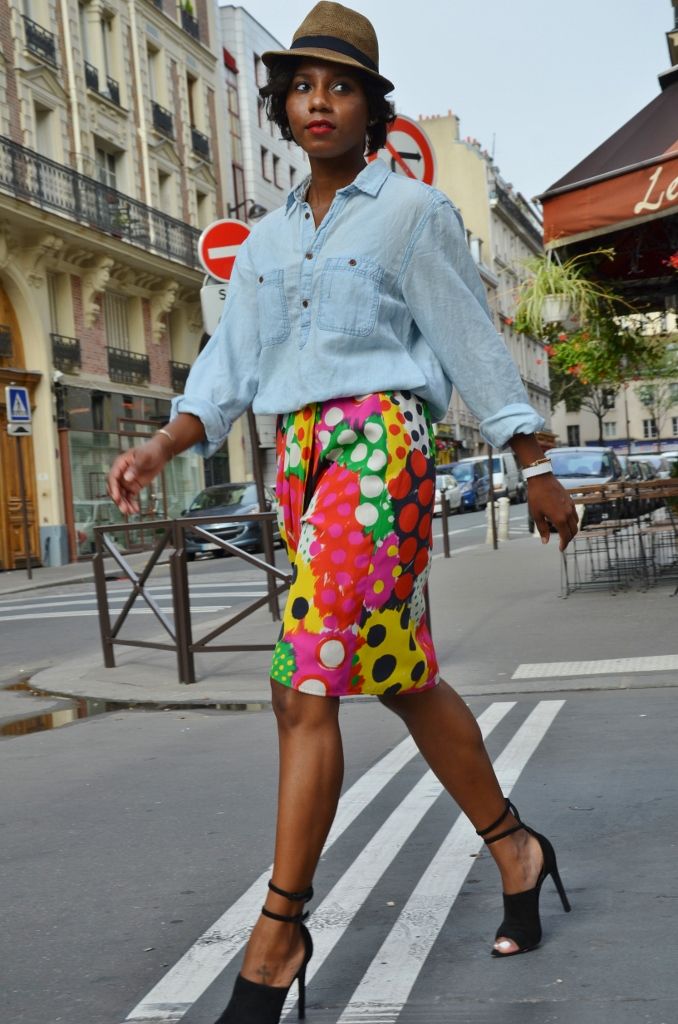 Today I went with my standard fashion week outfit: a skirt, a shirt and a hat. The skirt is a
vintage Ungaro skirt
that I scored on ebay a few weeks ago. I knew when I purchased it, it would be making it's debut here at
Paris Fashion Week
. I think I've finally hit my stride in regards to Paris Fashion Week. Today I slept in a bit before the sound of the construction happening on the building next to mine awoke me at the usual 10 am. Today I had two shows: Manish Arora and Sharon Wauchob. So lets get started with the story of my day.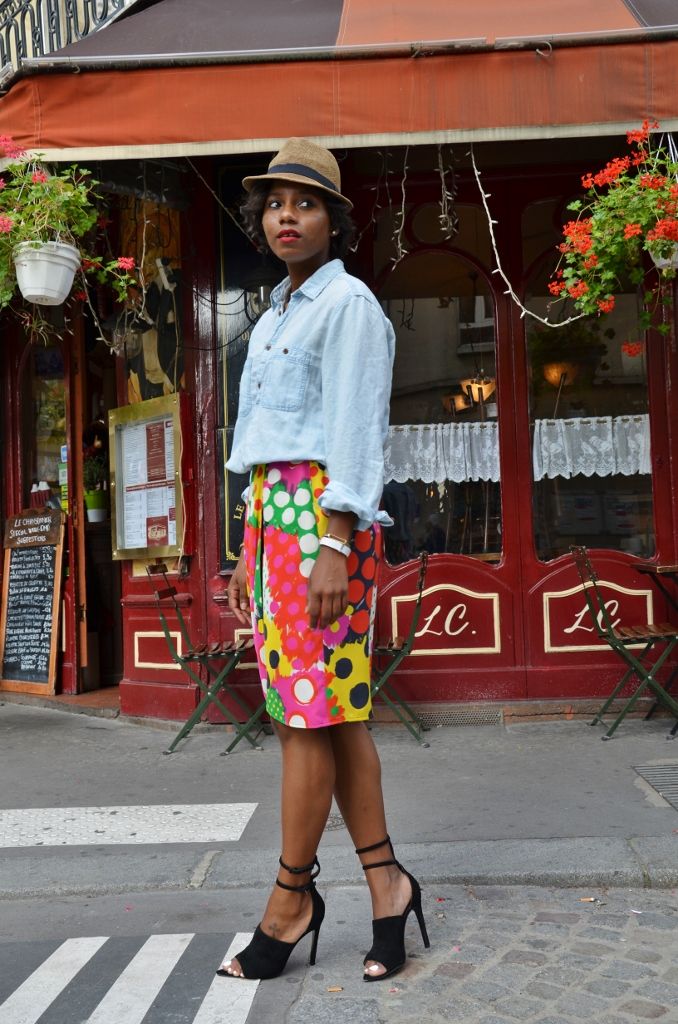 I was already running a little late but I hadn't eaten breakfast so I stopped in the little boulangerie for my daily chocolate croissant. Today I chose to wear fast flats again because my feet are jacked up. I don't think they will ever be the same. I'm counting down the days until I'm back in New York and my boyfriend comes home from Algeria just so he can rub my feet. Anywho today I made my way to Palais de Tokyo for the Manish Arora fashion show. I was already super excited about it as I've seen his work before and couldn't believe I was going to be able to see it in real life. Outside of the show were tons of photographers and bloggers and I snapped some great streetstyle photos. Check out
this girl
,
these girls
and
this girl
(whose skirt I really really want!) The show was amazing from start to finish. Take a look at it
here in a video of the finale walk
.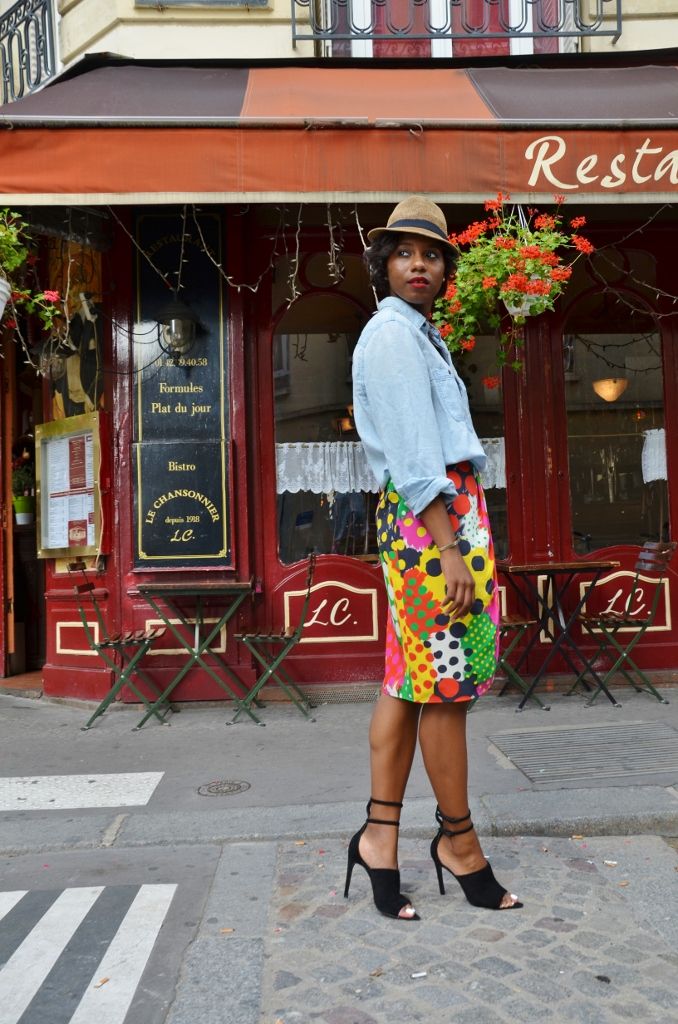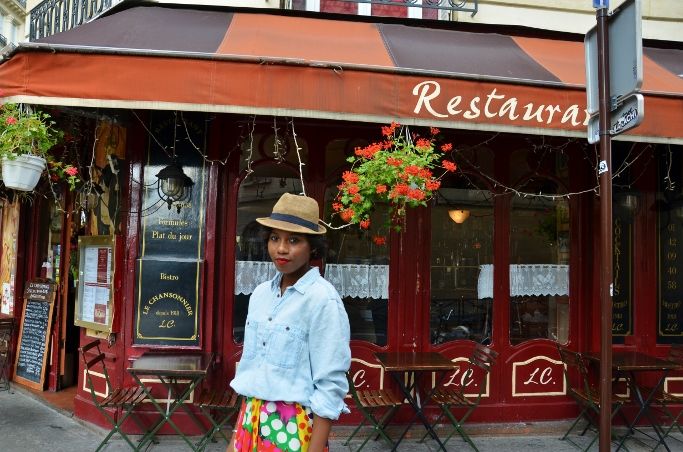 At the show I ran into new blogger bud
Georgiana
fresh off her reprimanding a crazed photographer for being tres rude. Let me tell you this lady was ruthless. If anyone came and tried to sit close to her or in front of her she snapped. I literally watched her get cursed out 5 times by 5 different people in a 5 minute time span. It was pure hilarity. After the show Georgiana and I made our way to the next show Sharon Wauchob. We were a little too early for the show so we stopped over at Starbucks to get some coffees and hang out a bit. (There are more Starbucks in Paris than there are in New York O_o). I learned that
Georgiana
has been blogger for over 5 years. She is originally from Romania but has lived in Paris for 2 years. Here blog is huge and she has over 44K followers on instagram. We bonded over our love for
vintage and thrift shopping
and then discussed who's a bitch and who's humble in regards to top bloggers such a Man Repeller, Chiara, Aimee and the like. It was such fun exchanging stories of how we've met some of these bloggers.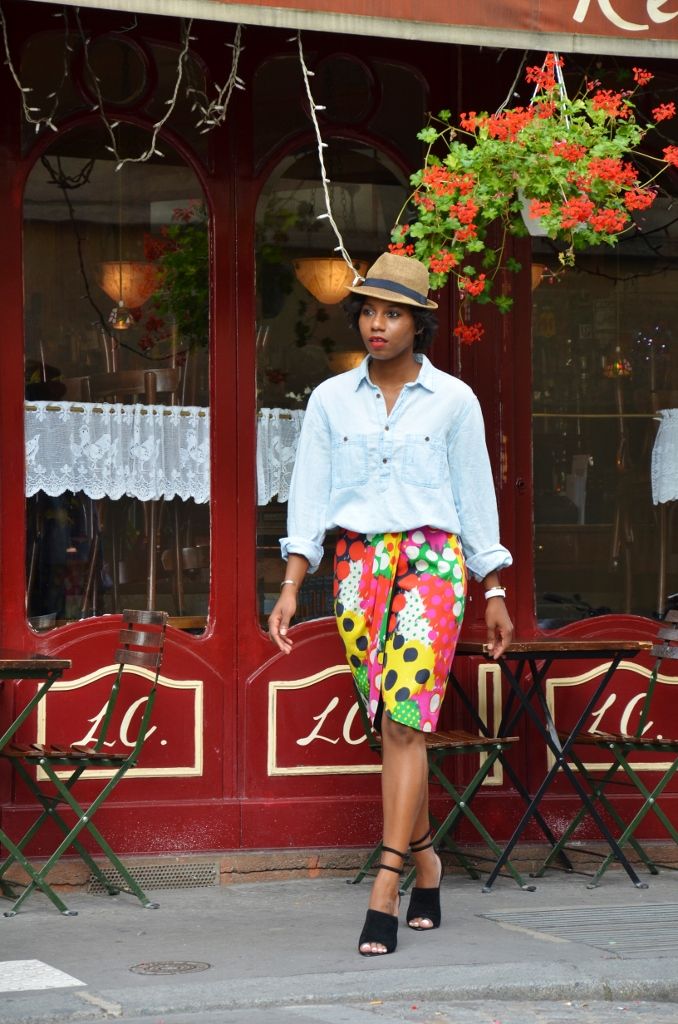 Sharon Wauchobs show was the first time in Paris that I felt like I'd arrived. I was escorted to my front row seat. I thought to myself this must be some kind of mistake but no. My card was clearly
marked C1
. I was front row baby! Paris I have ARRIVED! I was seated next to someone very well dressed and her shoes were incredible. I complimented her shoes, she complimented mine, asked who they were and then if they were comfortable. I told her Alexander Wang…and not one bit. We both laughed and she said pain is fashionable. I later learned from Georgiana that she is a big shot editor at a magazine I didn't catch the name of. Tres cool.
Next a camera crew came up to me and asked me to do an interview. Good thing I actually follow the designer and could answer all their basic questions. Then after the show a guy comes up and starts asking me all kinds of questions. Turns out he is the agent for
Meta Golding
and then she appeared and actually asked me to take a photo with her. Ummm if you don't know who she is check her out
here
. She is
STUNNING
and I knew I'd seen her on T.V. before. We discussed the lack of black models on runways in Paris, the fun of visiting showrooms and her upcoming film
The Hunger Games: Catching Fire
. Yes…she's in that!
All in all a day well done. Afterwards I made my way home to write up the show reviews and rest. I didn't have anything scheduled for tomorrow but just got an email for a great show tomorrow. They actually sent a messenger to hand deliver the invitation but I was out..(buying another delicious
strawberry shortcake
for lunch). Damn me and those delicious delicacies. So tomorrow…another day, another show.
Denim Top: H&M Mens Department | Skirt: Vintage Ungaro via Ebay | Shoes: Alexander Wang
Hat: Random NYC Corner