Some of my buys from Thrifting at Vintage Desir and shopping in Montmartre
I've run across 6 thrift/vintage shops in my short 4 days here is Paris. I am a true
thriftaholic
and love love love
vintage dresses
and
skirts
. Paris is like a dream. There is so much vintage Saint Laurent, Guy Laroche and Ferragamo here its sickening in the best way possible. Thrifting in Monmartre was my absolute favorite and I made a killing. Vintage Desir, By Flowers and Caverne a Fripe Vintage were the shops in Monmartre that I checked out.
VINTAGE DESIR
Vintage Desir (28 Rue Yvonne Le-Tac)
Straight off the train at Abbesses I walked onto Rue Yvonne Le-Tac and there is was the word "Vintage" luring me in. The place is run by a Spanish speaking woman who also speaks French but No English as all. She is very chic and hip and she played a lot of French/Spanish cool music. She spoke to me in Sprench (Spanish/French) once she figured out I didn't speak enough French.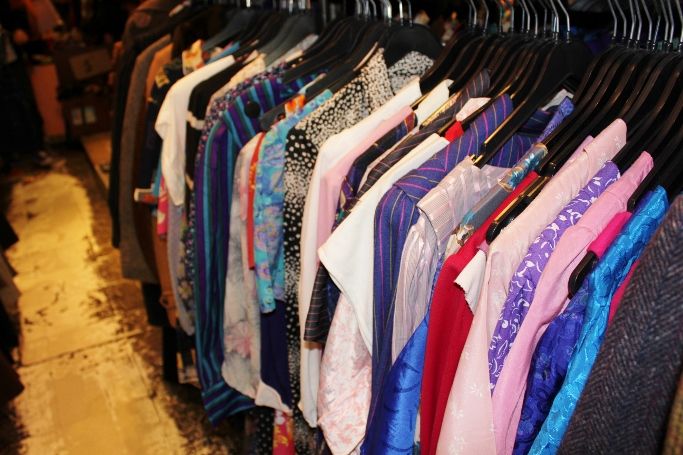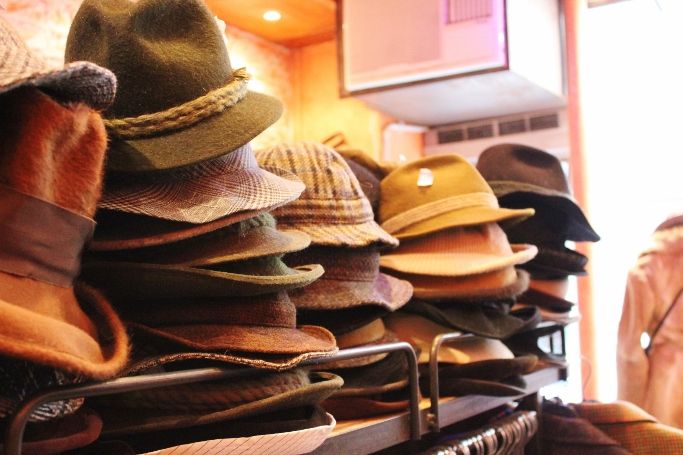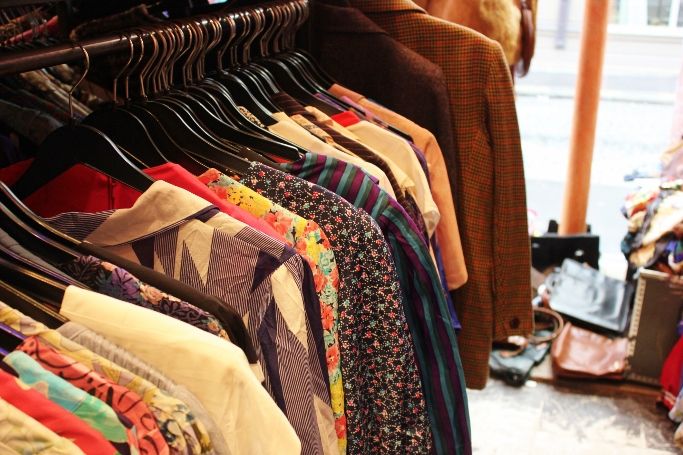 Vintage Desir place was chalk full of dresses and skirts, hats and coats most of which were 10 Euros each for dresses and 5 Euros for skirts. I made a killing in here scoring 4 dresses and 2 skirts for 50 Euros. This place was by far my favorite for thrifting in Paris and was very organized.
Caverne a Fripe Vintage
Caverne a Fripe Vintage 25 Rue Houdon
I narrowly missed this place but it is a treasure trove. My second favorite in Monmartre. Its run by a lovely man who doesn't speak a bit of English. The place is wonderful full of vintage dresses and bags. I loved this place and although I didn't buy anything I tried on about 10 dresses all of which didn't quite fit right but im thinking of going back and getting them anyway and having them altered back in the states.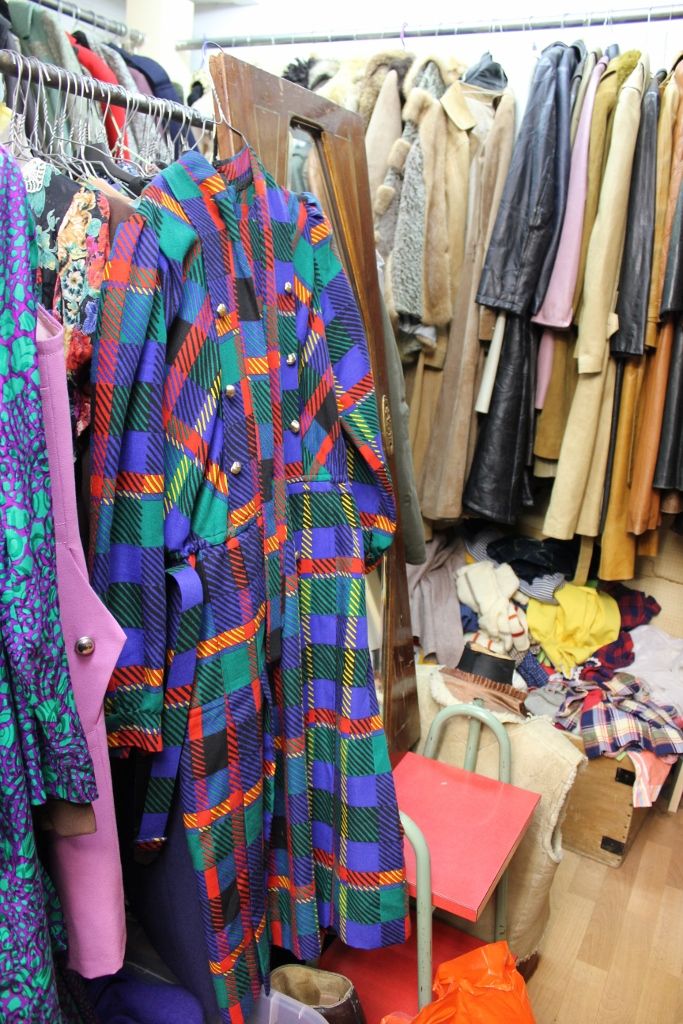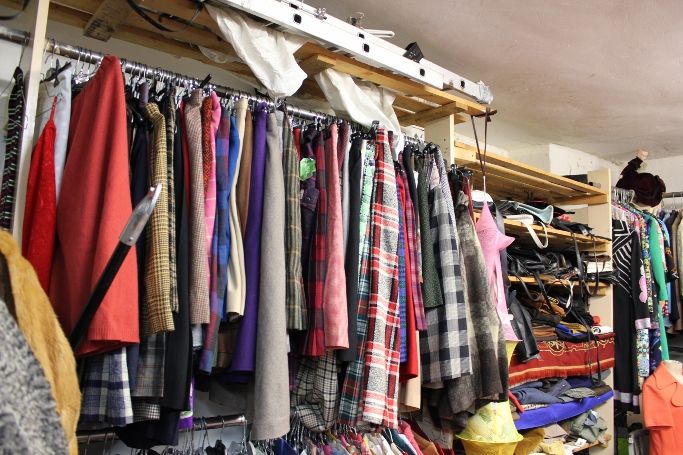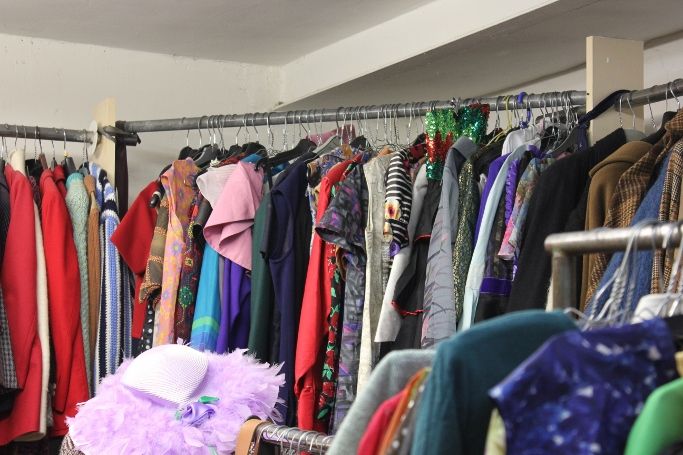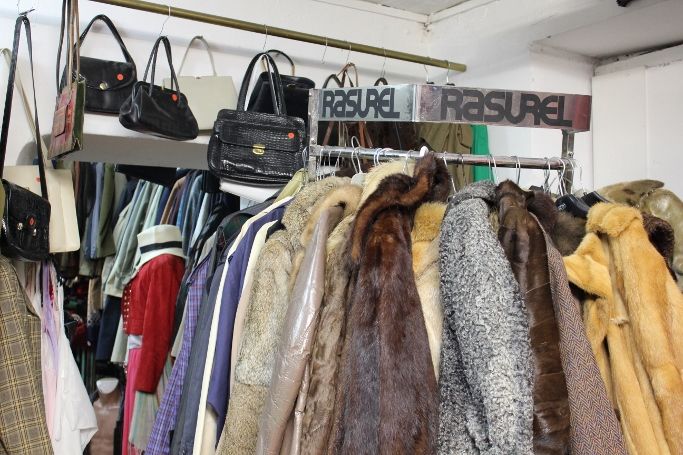 This place is a gem and worth a visit. The clothing is a little more expensive at dresses between 15-50 Euros. This place reminded me a lot of
Shareen Vintage in New York
with the quality vintage they had.
By Flowers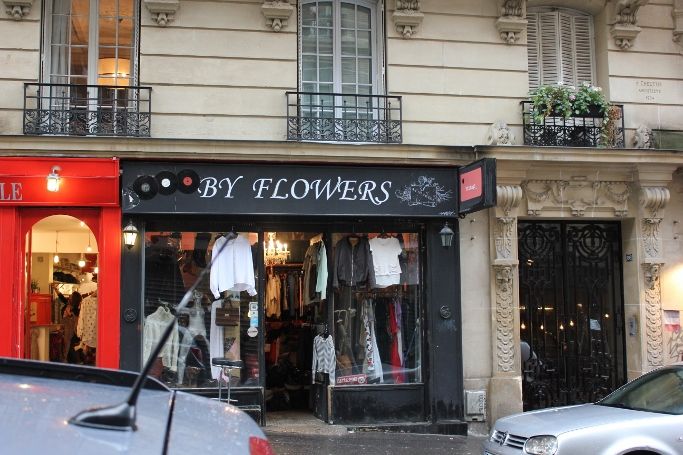 By Flowers Vintage 86 Rue Marytrs
This place wasn't anything special. In fact it was tiny and cramped and the quality of vintage and donated items was rather lack luster. It may be worth it to check out their trinkets but that's about it. These sum of the shops I visited in Monmartre.
Lets move on the Rue de Rivoli in Marias. Rue de Rivoli runs along a long strip of sights including Hotel De Ville to the Louvre and then the Tuileries. This is a prime shopping mecca in the area. It's super trendy with lots of clothing and shoe shops. But what interested me was the thrift stores. There are 3 just a few stores between in each other and each was pretty unique in what they had to offer. One street behind Rue De Rivoli is a little mecca of thrifting streets:
Rue Sainte-Croix de la Bretonnerie features two shops and Rue de Rosiers has another Vintage desire.
Come on Eileen Vintage
Come on Eileen Vintage 38 Rue de Rivoli
This place was a dream. 3 floors of superb vintage. Its so exclusive they wouldn't let me take photos so I snuck a few. Lets just say this is where vintage Chanel, Yves Saint Laurent, Guy Laroche and Ferragamo come to die and be reborn into some one elses wardrobe. I spotted too many luxury Parisian designers to count. Of course a place like this can ask 50 Euros for a vintage silk Christian Dior skirt. Although I didn't buy anything I'm waiting until my last day here and seeing how my funds look. If its still good shape I'm going back for a vintage Saint Laurent skirt that will fit nicely into my wardrobe. This was one of my favorite is Paris for vintage designers.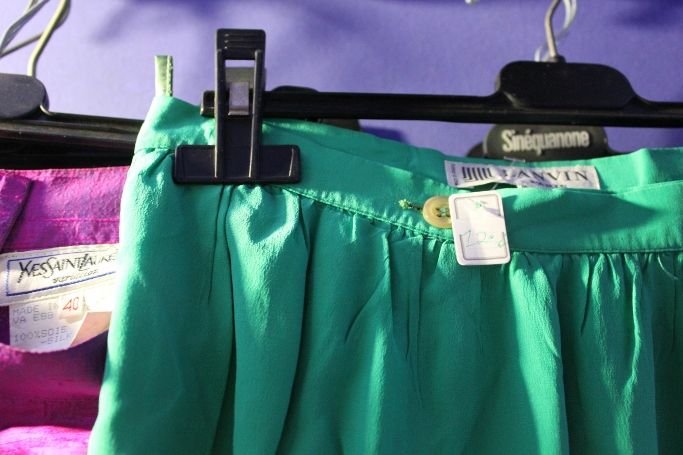 yes…I forgot to mention that they had a ton and I mean a ton of silk Lanvin skirts. The price range at this place starts at about 50 euros and can go sky high. The highest price for a skirt that I saw was 120 Euros for the green silk Lanvin wrap skirt. The place also has a really great bag selection as well.
Free P Star
Free P' Star 20 Rue de Rivoli
I'd heard about this place and I must say its reputation doesn't live up to the hype. It was dank and the goods weren't good at all. There was a meek selection of dresses I counted about 50 in all. Down the twisting staircase into the basement and you have two tiny more rooms mostly of coats and menswear. The basement smells disgusting…like mold. I doubt anything bought from down there will ever smell normal again even with a million washes. I got out of there quick and wont ever return.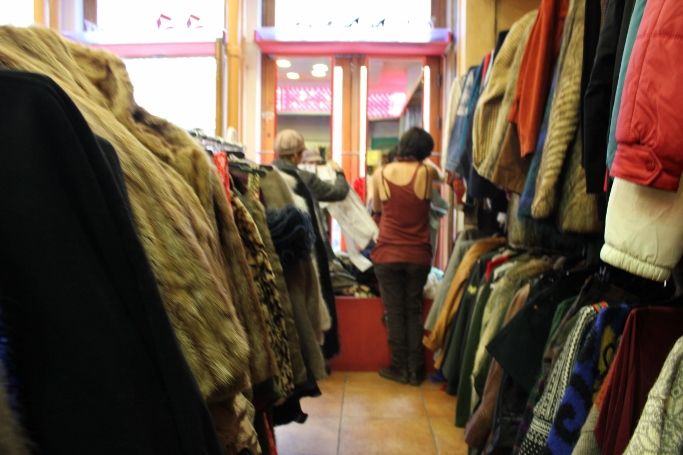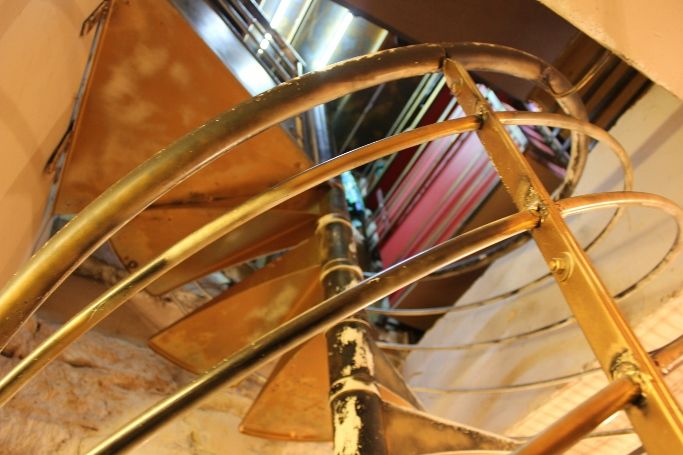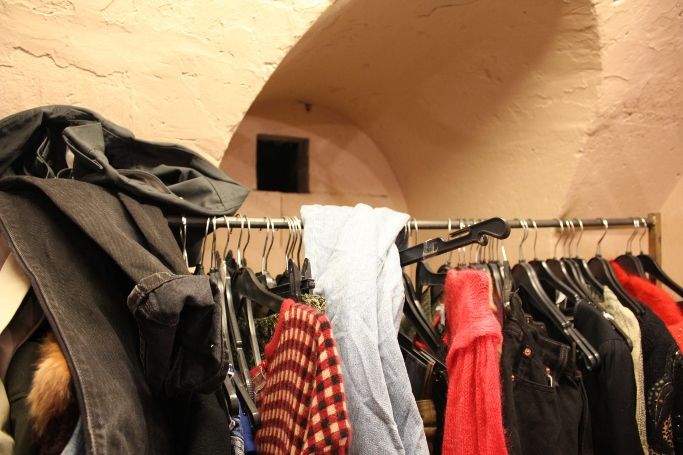 The place was in a state of perpetual disorder and smelled just like basement…after a heavy rain and then two weeks of no windows being opened. The only good thing was the 1 euro bin which mostly considered of scarfs and old hats and tank tops. Avoid.
Free P Star
Free P' Star 8 Rue Sainte-Croix de la Bretonnerie
This Free P Star is located on a street behind the previous one along the narrow and store filled Le Marais. The Free P Star is a lot like the previous one but better in terms of whats' offered. This one also smells normal which is a definite plus. It's tiny though and thus you will be bumping into people and things a lot. It also features the same stair case as the first. This one is a lot smaller than the previous Free P Star with only one room in the basement versus the two in the previous Free P' Star. Most things are between 5-30 Euros.
VINTAGE BY RAMIN



Vintage By Ramin17 Rue Sainte-Croix de la Bretonnerie


A little further down the street from Free P Star is Vintage By Ramin. It's a little bit pricier with dresses costing about 10-20 Euros. The selection had a very 70's-80's feel but they did have a pretty decent purse collection and lots and lots of blazers.
TILT Vintage
Tilt Vintage 8 Rue de Rivoli
I didn't get many photos inside this place but its a typical thrift/vintage store. There was a great collection of dresses, letter jackets, denim jackets and leather skirts. The prices were really reasonable as well with barley anything over 20 Euros. It's definitely worth a trip. I found a great leather skirt here too.
Vintage Desir
Vintage Desir 32 Rue des Rosiers
Just as good as the one in Monmartre. Excellent collection of vintage dresses and denim (shorts/jeans and button ups). It too also had an awesome collection of hats. The place is well organized and like the one in Monmartre all the dresses were 10 Euros and all the skirts 5 Euros. People were buying like crazy in this store. The selection at the Monmartre location is larger than this location but the quality of both places are the same.
Frip Irium
2 rue de la Verrerie
They place was meh. It seemed like more of a costume shop. The selection of sweaters was pretty good but that's it. I did spot two large totes they were nice. It might be worth it to stop in for sweaters but other than that….idk.
Mamz Elle Swing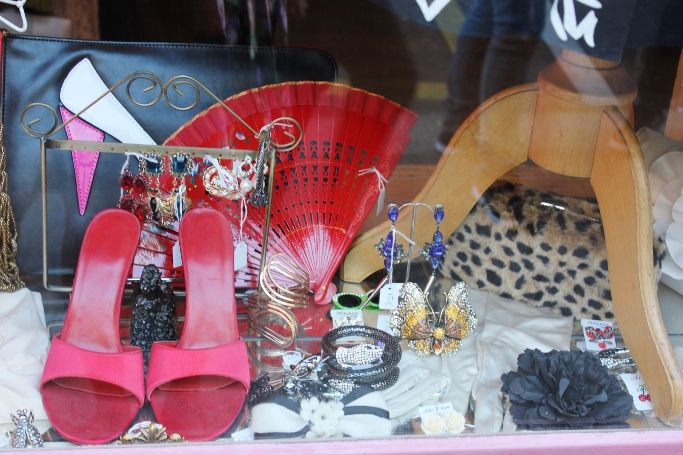 35 Rue du Roi de Sicile
Cute little vintage shop. It has a lot of very nice dresses that are real vintage 40s, 50's 60's ish. This place is a little on the pricey side though. If these era's are your kinda thing stop by this place. The owner even dresses very 50 ish.
King of Frip Vintage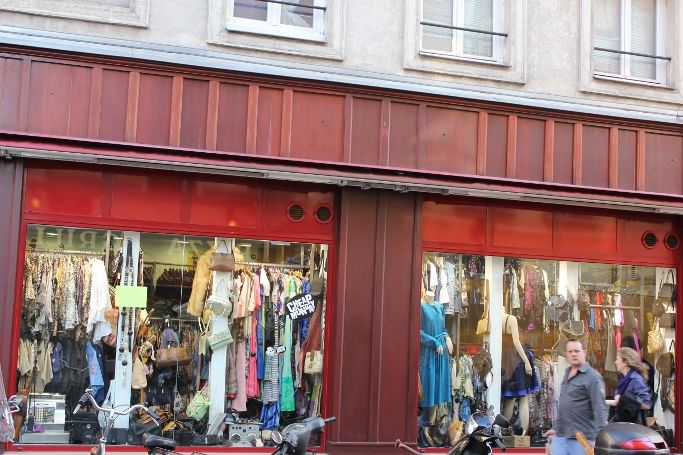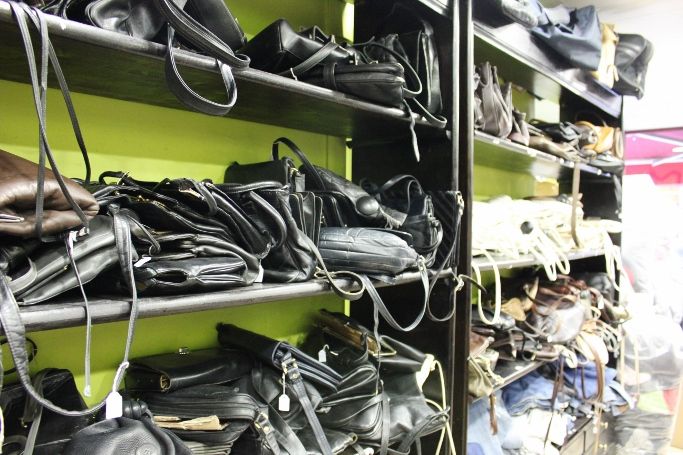 King of Frip Vintage
33 rue du roi de Sicile
This place is pretty large. They have a good selection of dresses, shoes and bags. Definitely worth a trip. I didn't see anything over 30 Euros.
VINTAGE/DESIGNER CONSIGNMENT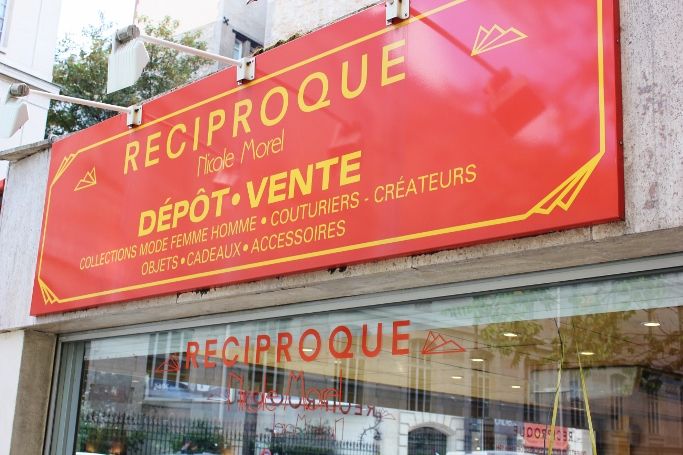 Reciproque 89 Rue De La Pompe
Thanks to Claire of The Fashion Bomb I just spent a shit load of euro at Reciproque. Its the hugest and only designer consignment shop in Paris and it's breathtaking. Take the Metro to Rue De La Pompe. The neighborhood is super chic. It's very much like the upper east side (where old money resides). The homes are gated and I saw a many a cleaning lady shinning a window to perfection. Yes…this is the area of the Paris elite…or filthy rich. No wonder Reciproque is located off the tourist beaten path and tucked neatly away in this glorious neighborhood. Probably because most of the donators live in the area. Anywho the place is a dream. I've never been any place like it.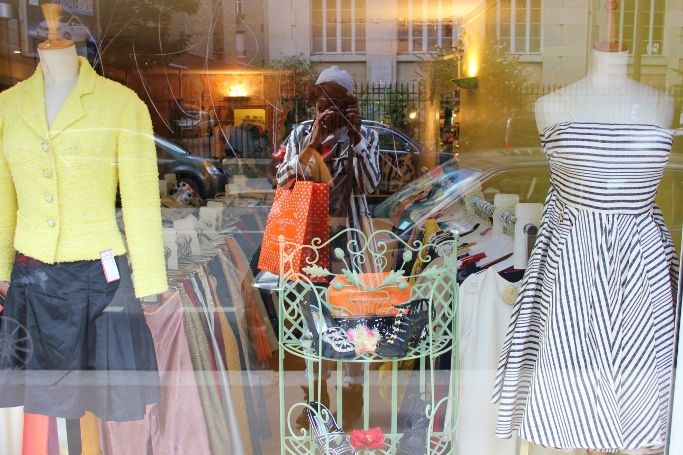 As soon as you step in…Chanel, Dior, Hermes, Yves Saint Laurent. Wow. I mean wow! The skirts were amazing. The selection is ENDLESS. I swear I was in there 3 hours because I had to make sure I saw EVERYTHING! Now some of the things are vintage and some are from last seasons runways. The prices are much steeper than your run of the mill thrift shop. Most of the skirts were in the 80 Euro to 250 Euro range. But hell its a Celine skirt from last season…and that's a deal…right?) lol. I don't know.
My buys from Reciproque: Antik Batik Dress, MaxMara Skirt and American Retro Dress
They do have a very large sale section downstairs which is where I hit the jackpot. Most things in this section was 100 Euros and below. They also have a massive shoe selection. I ended up getting a MaxMara houndstooth skirt, an American Retro checkered dress (with pockets) and an Antik Batik Sequin Dress. There is so much stuff this place has a series of 5 stores all next to each other with Men's across the street. There is a jewelry store, and a bag store. The bag store is delicious.
I saw this perfect Chanel Bucket Bag for 680 euros. Yeah I wasn't gonna buy that but at least I got to touch it. I may go back for a cute round leather bag I saw for 80 Euros and this bomb Jean Paul Gaultier belt with pockets (ekk). Of course the place allowed no pictures so I got a few from outside. Its definitely worth a visit especially the sale section. You WILL NOT leave empty handed. And everything in there is designer…everything.Stay tuned I will continue to update this post as I thrift my heart out in Paris. Make sure to keep up with my
Parisian adventure on Instagram
.