I recently attended the Alexander McQueen: Savage Beauty Exhibition at the MET in NYC.
It was breathtaking. The wait was only about 30 minutes. While in line I saw Marianne Jean-Baptiste from Without a Trace and Khalil Kain (Darnell from Girlfriends and in the movie, For Colored Girls). The MET was popping with celebrities and just regular folk wanting to see McQueen's iconic collections
Dress: ASOS
Jacket: H&M
Shoes: Steve Madden
Necklace: Thrifted from Housing Works
This was the outfit I wore to the exhibit. Three very cute elderly ladies stopped me midway through the exhibit to tell me how they loved my shoes and asked how I walked in them. They are platforms so I just explained it really only feels like I'm walking in 1 inch shoes and they are very comfortable. It was quite funny. Here I am amongst these fascinating pieces and they wanted to know about how I'm walking in my Steve Madden Platforms lol.
The exhibit was breathtaking. I have never seen such elaborate out of this world artistic to the maximum designs. McQueen was truly a genius. His works were so original, so beautiful, so dark and fantastical. The exhibit had everyone speechless or bursting into words like
"Whoa, Wow, my goodness, this is amazing, this is stunning, how'd he do that?"
Here are a few photos courtesy of The Metropolitan Museum of Art
Check out a video on the Exhibit
HERE!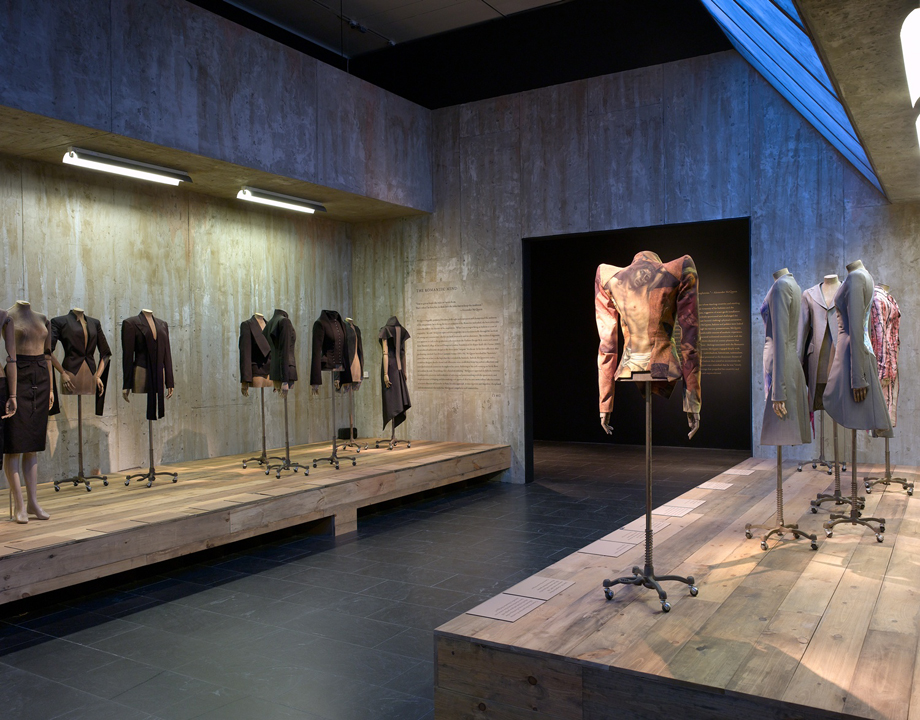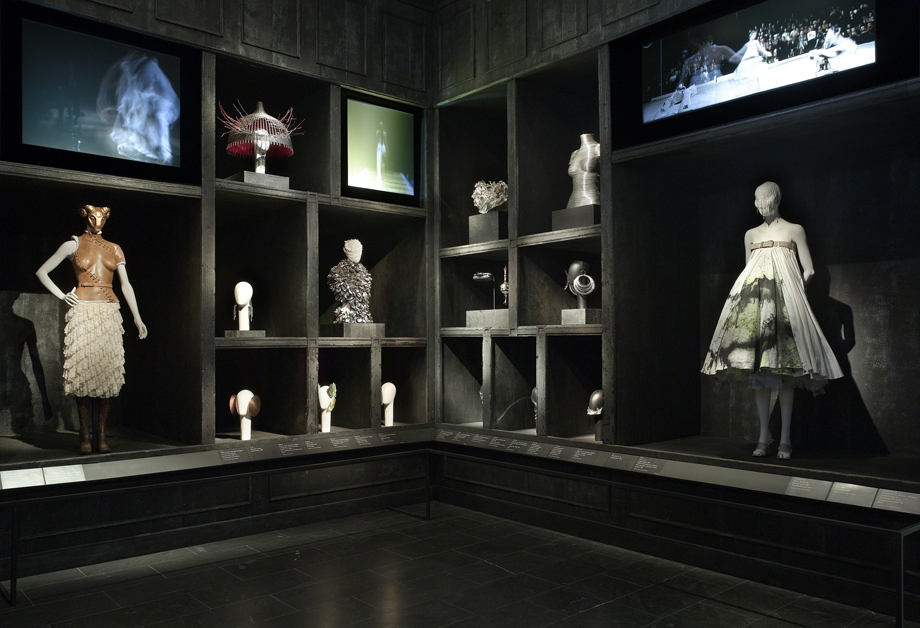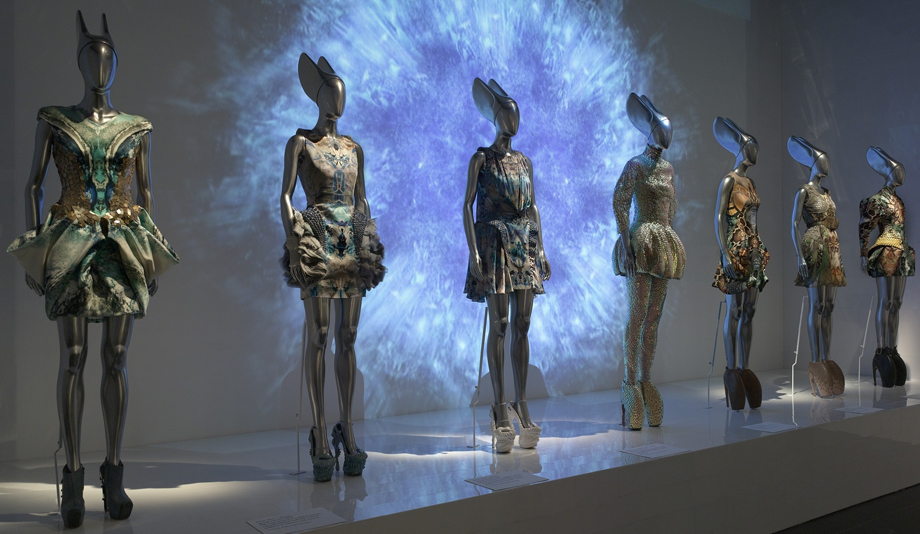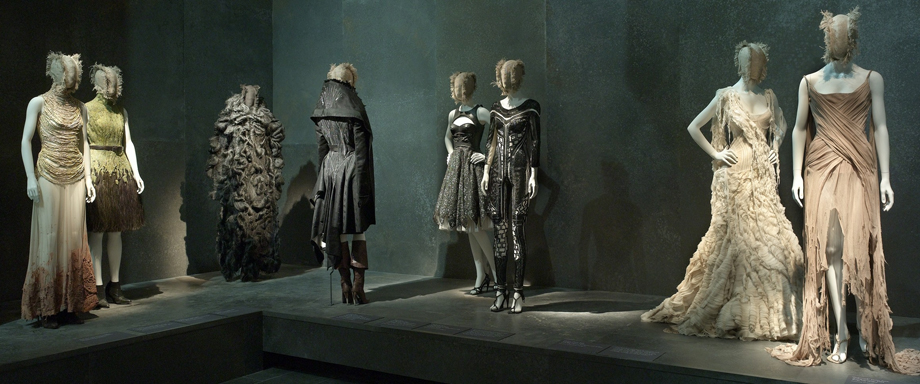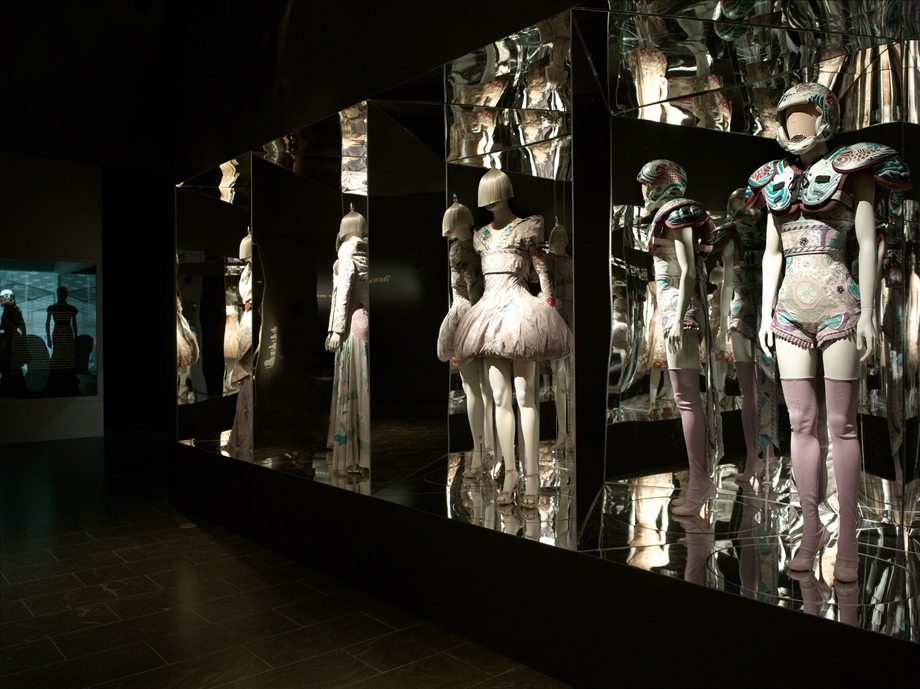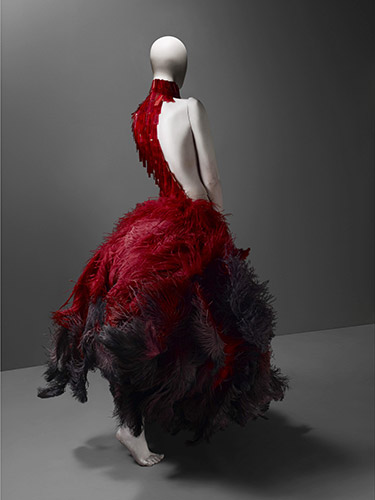 This dress was definitely my favorite of the exhibition.
Firstly, let me tell you the photos do this exhibit no justice. There is ethereal music playing for each collection. There are lighting changes, interactive movies and runway shows, hologram videos and actual hidden fans blowing the billowing garments. It was truly stunning and an amazing experience I will never forget.
I loved McQueens use of weird materials (well atleast weird to me) such as horse hair in skirts and blazers, taxidermy crocodile heads as large shoulder pads and the use of shells and duck feathers.
Some of the pieces look down right unwearable but just gorgeous pieces of art that also can be worn…by the daring such as Lady Gaga who dedicated the song "Fashion of his Love" to McQueen.
I attended this event with a few of the members from the NYC Fashion Bloggers Meetup Group.
After the exhibit we went up to the The Iris and B. Gerald Cantor Roof Garden and had a drink surrounded by the best view I've seen of NYC in a while.
If you are in the New York area and you love fashion this show is a must see! It is so popular it has been extended until August 7th. Its by donation only so practically free! You must get yourself over to the MET and see the 100+ pieces of McQueen's iconic designs.
For those who have been to the exhibit what did you like most?
For thos who havent..what do you think of McQueen's designs?