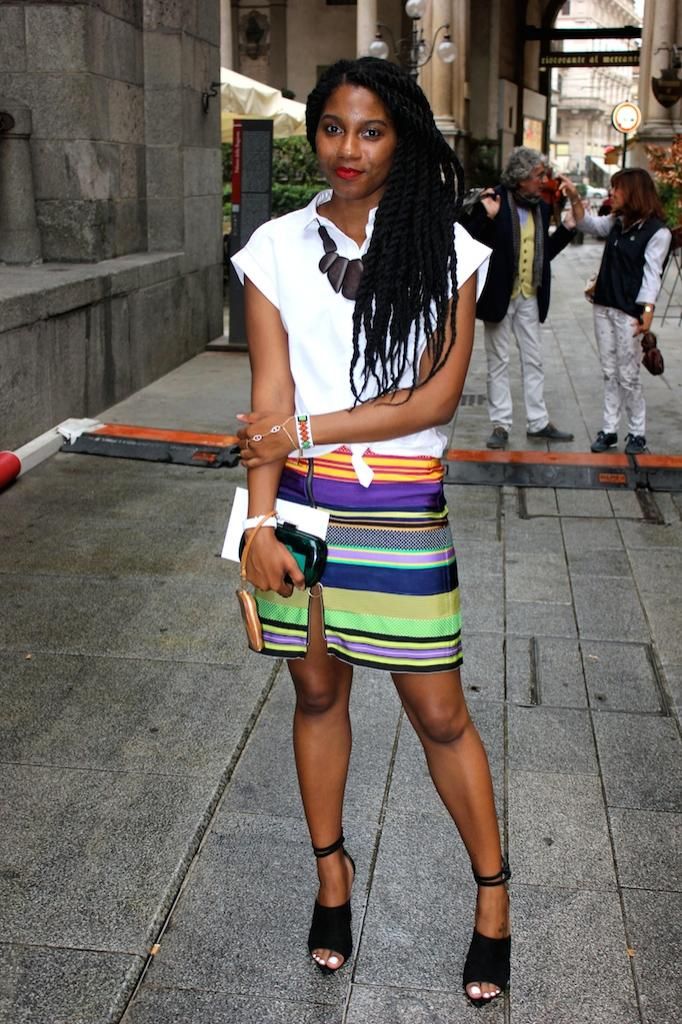 So last night I flew into Milan. I have to say its not really what I was expecting. I know its an older city but its definitely not as developed as I thought it was as a whole. It's still however a beautiful city. When I first saw the Duomo I gasped…its very majestic. The little neighborhood I'm staying in is quaint. There is a pizza shop not 5 feet from my apartment and its 4 Euros for an entire pizza. I made the mistake of thinking it was 4 euros a slice and asked for two…needless to say I ate a whole pizza and a half today. I'm not proud of myself…but it was delicious. Barely anyone in my neighborhood speaks any English…so I'm working on my Italian, and I definitely have no problem garnering young and old Italian men to talk to. I swear I was winked at at least 5 times today. lol.
Photography by Jade B. Ford
Top: Zara | Skirt: J. McLaughlin | Clutch: BCBGeneration | Shoes: Alexander Wang | Necklace: Thrifted
Today I checked out the Fashion Hub which is a lot like Lincoln Center in New York. There were a bunch of exhibits from designers and a cool photo exhibit of Sophia Loren. I also covered the Vic Matie shoe presentation, Les Copains fashion show and another awesome presentation by Maurizio Pecoraro.
I thrifted this skirt a few days ago. It was a fashion STEELE at $10 bucks from one of my favorite Upper East Side Thrift stores City Council Thrift. I always find amazing skirts there for next to nothing like this Nanette Lepore skirt I thrifted last year and wore in Paris. Tomorrow I have some pretty awesome shows and presentations to attend so keep up with my on Instagram @monroesteele or hashtags #MonroeDoesMFW
xx
Monroe