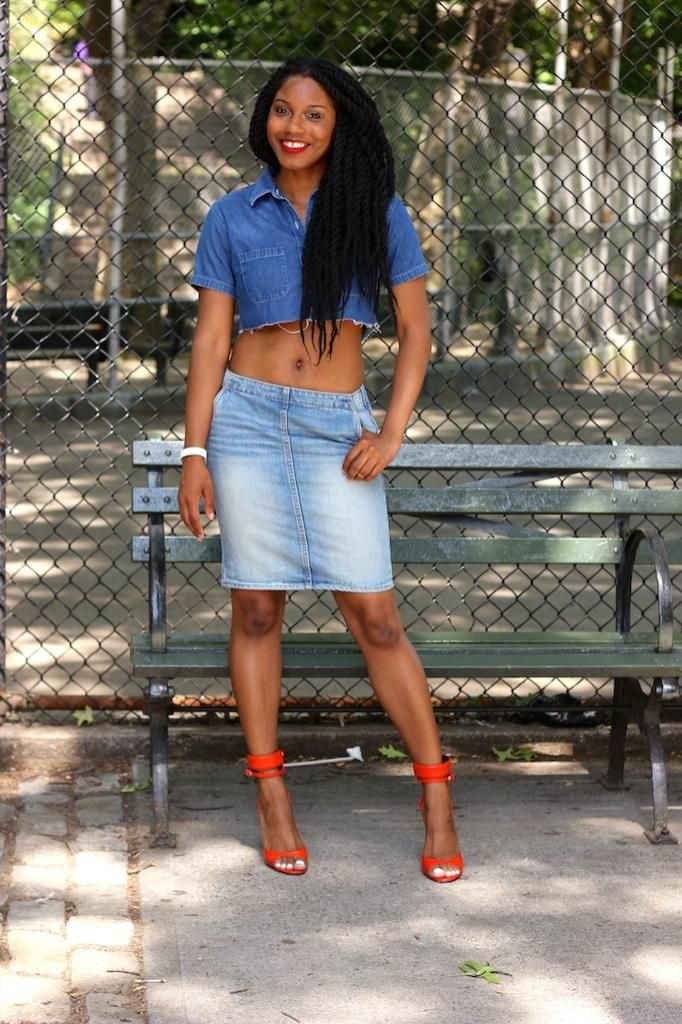 It's Independence Day here in the states, which can only mean one thing. Barbecues, alcohol, fireworks and a lot of red, white and blue. I'm sure your instagram will be filled to the brim with star spangled shorts and whole cakes made with red, white and blue items. It's just the American way.
Top: Thrifted | Skirt: Gap | Shoes: Alexander Wang | Lipstain: Stila Fiery
GET THE LOOK
I'm still trying to decide what im going to do today. currently im content to sit on the couch and watch bad tv. but im definitely going to go get a little tattoo today. (Mom if you are reading, dont worry it wont be in a place that's "unprofessional"). Can you believe how awesome this skirt is from the GAP. Ummmm who knew GAP was popping like that? I didn't until I found this lovely dress there. I went with my favorite Red Wangs but today is a good day for a casual sneaker.
I scooped up this denim cropped top from an awesome thrift shop while I was in Toronto last weekend called Black Market Thrift. The store is chalk full of great vintage and thrift items for less than $10 bucks. I also loved their early 90s playlist. I found out it was actually a soundcloud they were streaming, and if you wanna feel like you're back in middle/high school check out Kronika Thugs & Kisses Playlist! OMG the best playlist I've heard it a HOT MINUTE! I will definitely be bumping it today at somebodies cookout, while I kick back and watch the fireworks tonight., yall be good and make sure to subscribe via email to keep up with all my blog posts, and my YouTube for all my videos! Check out my outfit for the last years 4th of July!
Happy Holidays
xx
Monroe