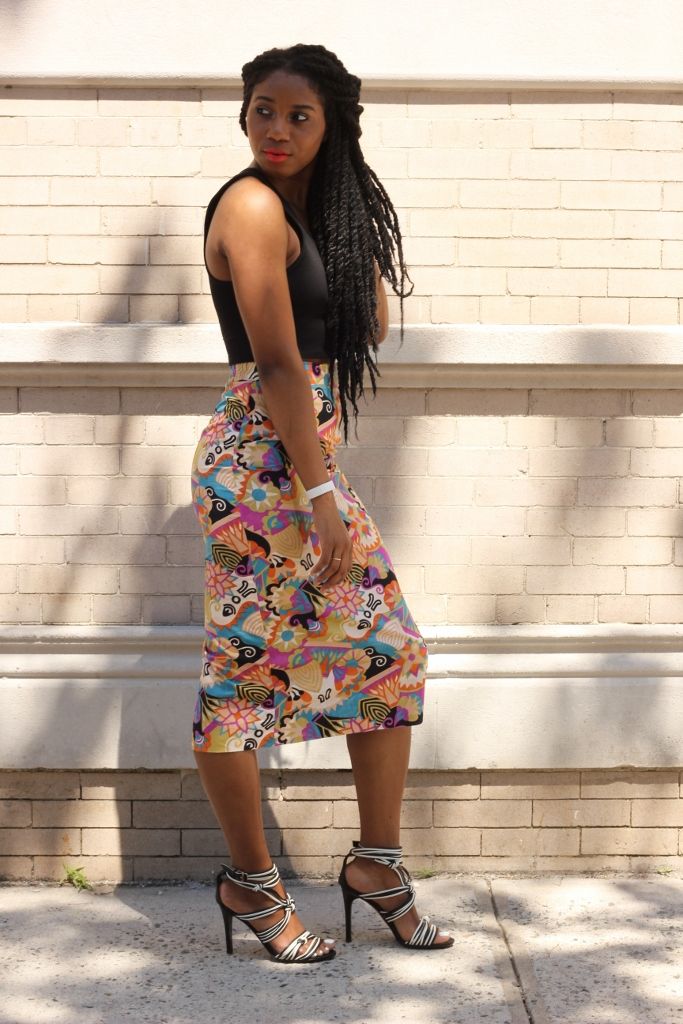 I do love thrifting but I have my moments or better yet dry spells when I'm just not in the mood to thrift. But I was walking along 4th street near Washington Square Park on a dreary rainy day and I saw the sign: Hamlet's Vintage Grand Opening. It was a sign both literally and figuratively that I needed to get my bum back to thrifting!
Top: Top Shop | Skirt: Vintage Thrifted from Hamlet's Vintage | Shoes: Derek Lam from Sample Sale

Watch: c/o Guess Watches
GET THE LOOK
The place is a treasure trove of vintage dresses. I could very well have spent a big chunk of my paycheck in there. Being that its vintage the clothing is a little more on the expensive side but well worth the trip. I scored this amazing vintage printed skirt by Rene Pontier for $30. I paired it with this tiny racer tee that I got from Top Shop (2 for $15 Fashion STEELE!) and these awesome Derek Lam strappy sandals that I got a the Derek Lam Sample Sale for a STEELE at $25! All together this outfit clocks in at $65. Not too shabby! I'm also getting into more brighter lip colors since its finally Spring! The one that I'm wearing is Bite Matte Creme Lip Crayon in Blood Orange from Sephora and it smells and tastes delish!
I hope everyone is having an awesome 3 day weekend here in the states! I also want to thank everyone again for all the birthday wishes! I had the most awesome month filled to the brim with parties and cake and friends and dancing! Make sure to check out my birthday post HERE and HERE.
xx
Monroe