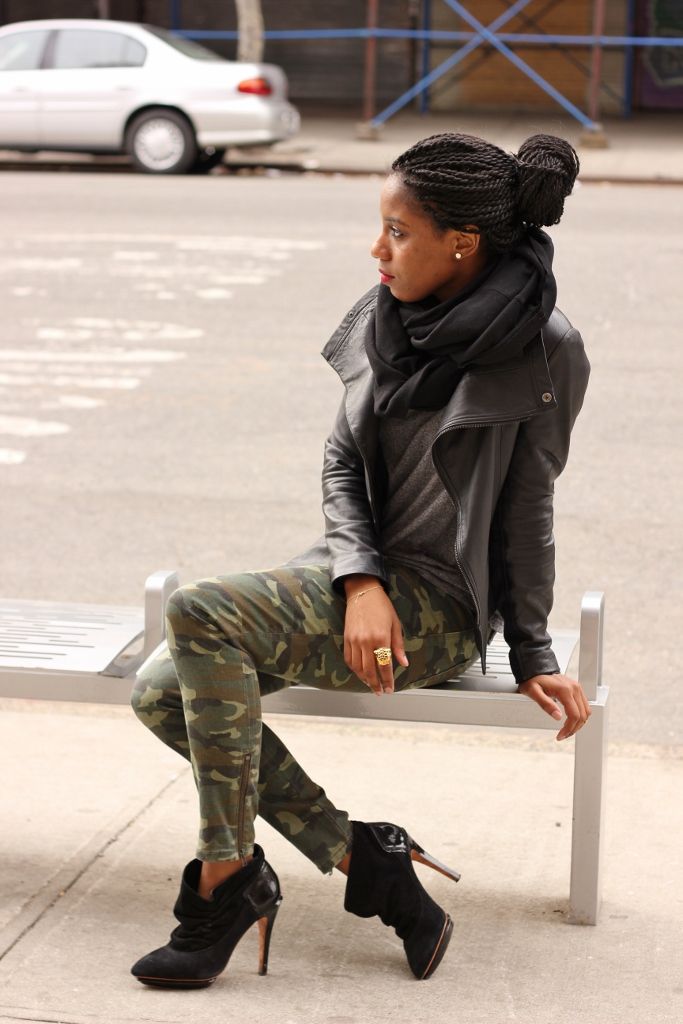 winter just wants to hang around..even though it became Spring as of March 20th. I just don't get it. The way Winter hangs on in New York is one of the things I hate about New York. I don't like being cold, I don't like wearing bubble coats, I don't like wearing scarfs, I hate when the wind blows so hard it blows dirt into my eyes and hurts my face. It rained all freaking day. Cold rain, and super strong winds. I can't anymore. I really just can't. If we have one more day under 40 degrees…i may pack all my things and move to California.
Jeans/Top: Forever 21 | Jacket: Dallin Chase | Scarf: American Apparel | Heels: LAMB
I have two pairs of camouflage jeans. These are a pair I picked up for less than $25 bucks at Forever 21. I like the way they fit but they are the best quality. I have another more expensive pair from 7 but the color isn't as bright. This scarf is a double wrap scarf from American Apparel and has been my saving grace this Winter and Spring ( O_o), I look forward to the moment I can put it away though. This weather really has me craving spring and summer dresses. I have been scouring the internet and came across a great site www.simons.ca that carries a ton of perfect spring dresses for a fashion STEELE of a price! Make sure to check them out!
xx
Monroe