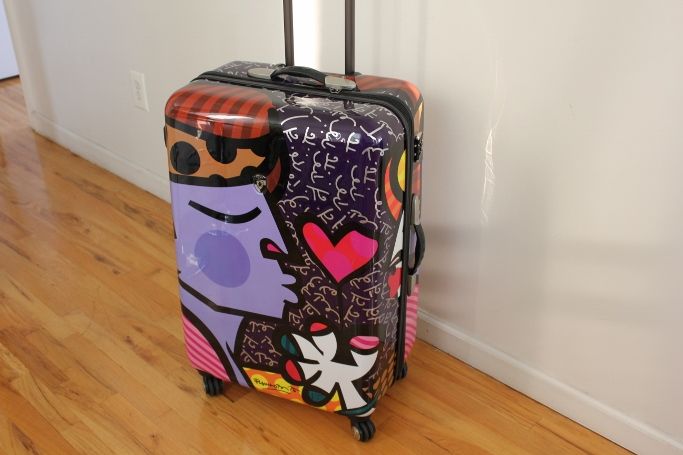 I've been so busy covering fashion shows
here for Mercedes Benz Fashion Week
and simultaneously working a full time gig that I haven't begun to think about packing for Paris…until today. Yes…I leave Saturday morning. I finally had a moment to check out the weather there online and begin to plan accordingly. Paris is about 10 degrees cooler than New York at the moment and it seems it rains every other day (boooooo Parisian weather) but I doubt I will even notice. I will be too excited just being there. This suitcase is sure to stand out (and will be easy for me to spot) at baggage claim. Its the perfect size and very durable. It was a fashion
STEELE
at $119.99 from Marshall's!
Linen Stripe Blazer: Zara | Headphones:
SONY
| Sunnies: Ray Ban
Since im sure there will be chilly days I'm definitely packing this oversized stripe blazer from Zara. I paid full price for it but saw it during their recent sale for about $30. I will be rocking it with dresses as well as skirts and denim. These
two tone denim jeans from ASOS
screamed for me to buy them when I recently spotted them. They are so freaking cool! This bag is going everywhere with me mostly because its the perfect size to fit my
DSLR camera
! Flats are very necessary as I will be walking all over Paris. Make sure to follow my
Instagram
to catch all the action as it unfolds.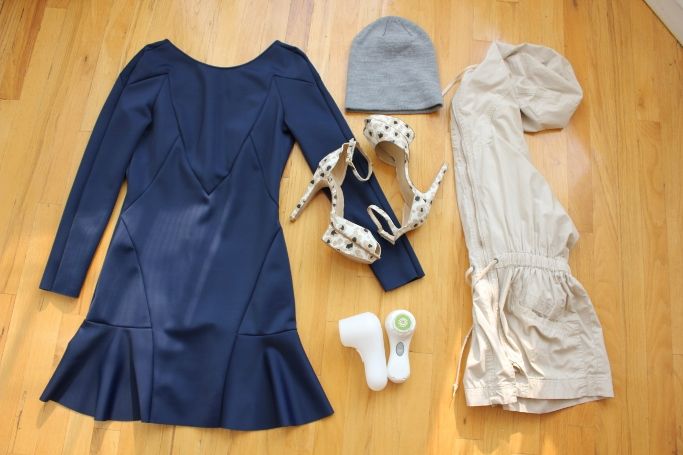 Dress: SPACE via Century 21 | Parka: Thrifted | Shoes: Zara |
Beanie
: H&M
When I purchased this dress last month I knew it would be for Paris. It has a very Stella McCartney-esq look don't you think. I love that its a neoprene material and fits like a glove. The shape of the dress has been all over the runway this season as well. Since its looking much cooler and with more rain in Paris this
parka jacket
will serve me well. It can also be an easy way to pull a t-shirt and jeans with flats outfit together to make it a tad more polished. I can't live without my
Clarisonic
check out my review
HERE
. It has done wonders for my skin.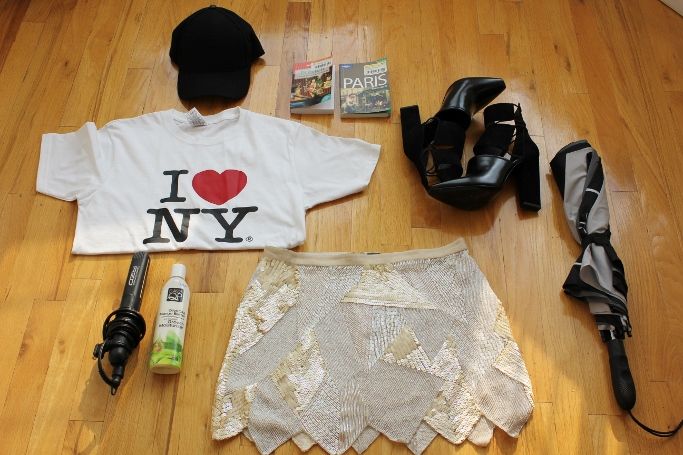 Of course im not gonna go to Paris and not represent my city! Even if I fall madly and deeply in love with Paris…I know nothing will come close to the love I have for New York. As for the
sequin skirt
, I've worn it out for an evening as well as
during the day
. It's one of those staple pieces in my wardrobe. I plan to wear it during
Vogue Fashion Night Out in Paris
. It soooo sucks that they shut it down here in New York City but on Sept 17th in Paris…I will be shutting la rue du Faubourg-Saint-Honoré (A cool shopping street in Paris) down!
See you in Paris!