so I've been wanting to do a more
fashion business attire
outfit post. this my loves is it! if I all of a sudden got called to do some awesome
magazine styling
this is what I'd wear.
I get a lot of questions…mostly on my
Lookbook.nu
asking what to wear for
interviews in fashion
.
So here it is darlings. It's
chic
and flattering but still business attire with a
pop
giving the use of color.
I also want to address a lot emails I get about getting started with blogging as well.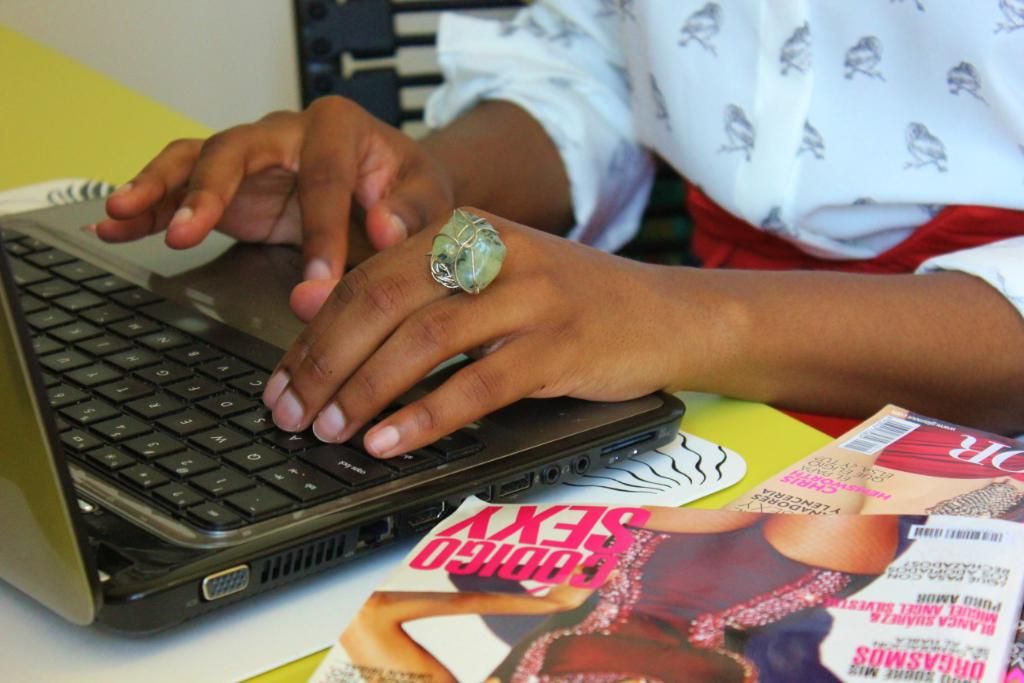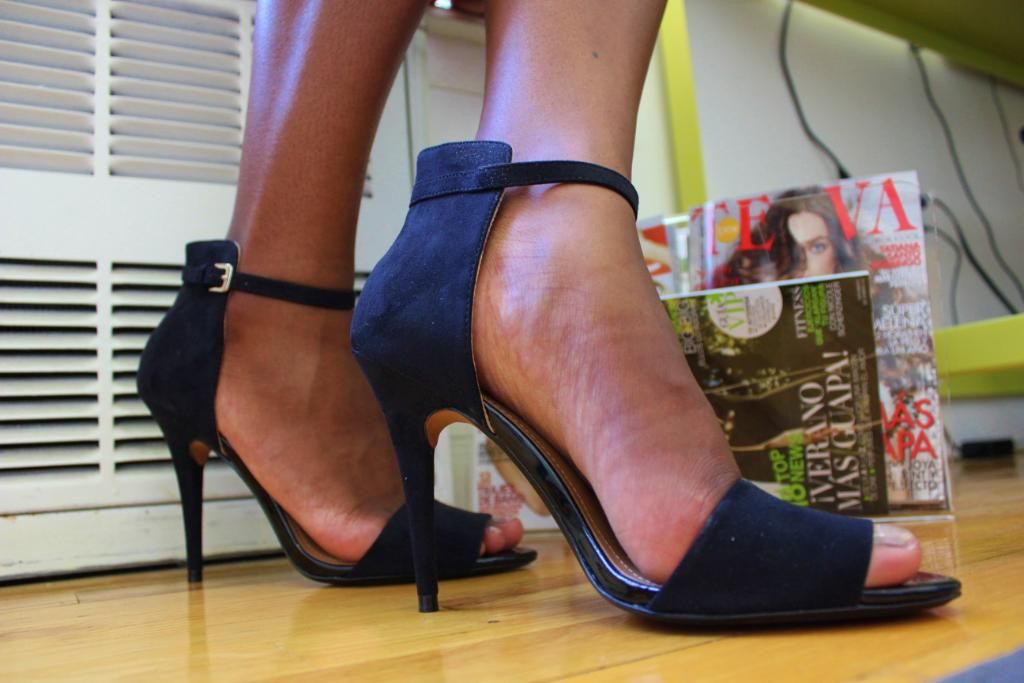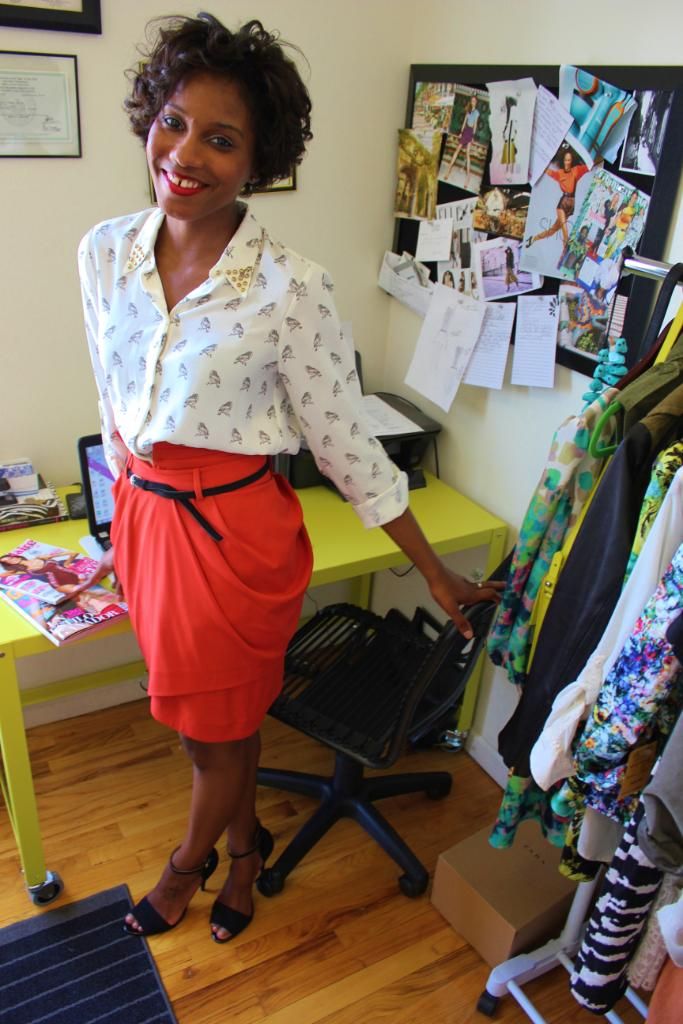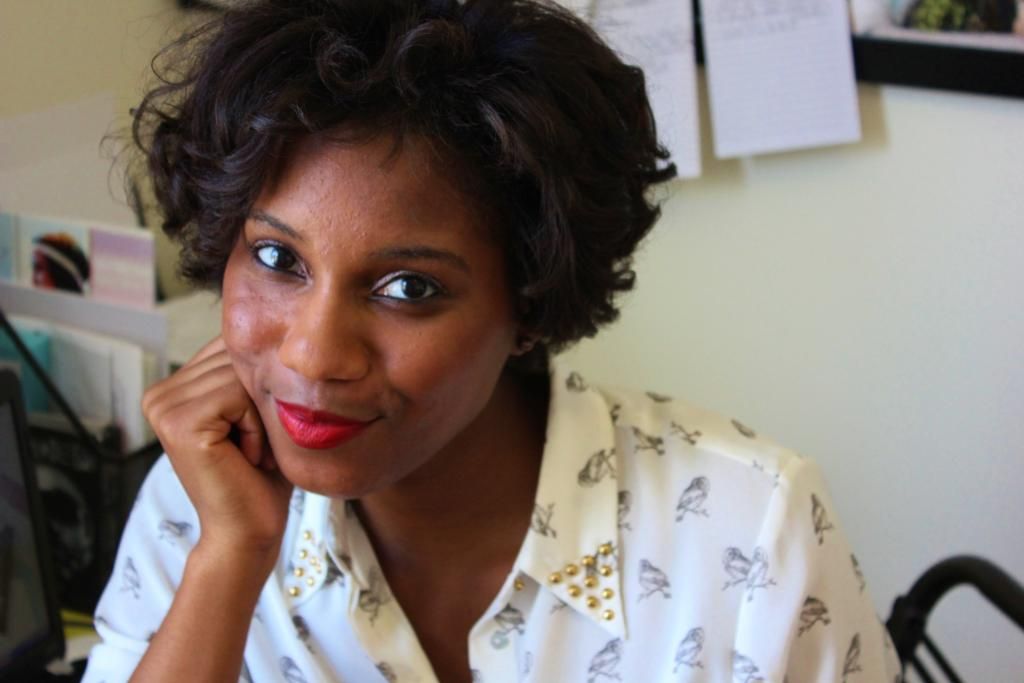 Skirt: H&M (Old) see it worn differently
here
| Top:
Zara
| Shoes:
Zara Basic Sandal
Lipstick: MAC Red | Ring: Top Shop
I really love this skirt. So much so that I have it in black and off white. Hey when I like something I have to get the most out of it. I am realizing that more and more if I really like something I should buy it because in New York City things sell out like hotcakes. A lot like these Zara shoes. I waited weeks for them to restock and when i finally got a 4am email alert..I hopped up so quick and bought these right away! lol. Ohh the things we do for shoes!
Check out a video post of this outfit on my YOUTUBE CHANNEL.
So to the business of blogging.
Here are a few questions I get on a regular basis:
How do I manage to work full time and blog?
It's hard. I don't have a job in fashion…I work in health. So I'm not running around in fabulous clothing during the week unless its after work. I hardly ever do "daily outfit post" because thats not realistic for me. I pick out 4-8 outfits and shoot them during 1 day a week and post them throughout the week. Now these outfits do get worn…just maybe not on that exact day. Check out this post video on how exactly I do an outfit post. I try to get all my post together during the weekends and post them throughout the week. I shop inbetween lol.
Do I shoot my own photos?
In the beginning I did but quickly realized it was too time consuming. I have a photographer. I've had her since my blog began. Her name is Samantha and she's awesome. She don't work for free..I pay her for her work. This is a hobby and I set money aside to be able to do this on a monthly basis because I love it and its important to me. I also have good friends who may step in from time to time and photograph for me. I use a Canon T2i with standard lens for photos and video.
How to get more followers?
I still consider myself a rookie blogger. I have been at it for a little over a year and a half. I must admit that getting a following is hard but you just have to let it happen naturally. I promote myself. I go to fashion industry events and network. I never leave the house without my blog business cards. Networking in person is awesome but you can also network online. Promote yourself on all social media that works for you. I like facebook, twitter, instagram and lookbook.nu. Those are the ones that work best for me. But you have to find whats right for you. Also post often.
How do I get brands to work with me?
Some are from networking and being a part of blogger groups/clubs. I would say about 30% is from networking. The other 70% are just brands that approach me. I've reached out to a few brands but not many. I think when brands see that you are consistent and have a unique voice and audience they want to work with you. I've been really lucky. I feel now that I'm at a point where I can start reaching out to brands. I also have a set template letter of what I will and wont do when a brand approaches me.
Do I feel there is racism in fashion blogging?
Yes. I've seen it. I know I have to work twice as hard and be more consistent and just more on point all the time to get further in the fashion blogger business. I see the same 5 girls in New York City get blogging job after job after job and honestly I'm not mad at it. It really just motivates me to be the best effing blogger I can be by being consistent and unique. There was a great article on this issue done by Folake Huntoon of Style Pantry for Chictopia. Claire Sulmers of Fashion Bomb Daily also recently spoke about the issue in a Style Video. As Claire mentioned in the video Vogue did a great piece on the subject of race in fashion as well; Is fashion racist? I'm also happy to announce that I was chosen to be a moderator/panelist for the first ever Style Bloggers of Color Conference next weekend so stay tuned for posts about all the happenings in ATL.
What blogs/bloggers do I go to for inspiration?
Just check the sidebar…I check them all daily. For a kick in the ass I check out Karla's Closet. Looking at her blog makes me instantly step my game up 100% when I'm blogger slackin'. I check out Karen of Where did u get that simply because shes awesome and doing her thing. Peony Lim for style inspiration and ThisThatBeauty for all beauty related inspiration. I also frequent Tamu of
All the Pretty Birds for fashion inspiration.
How do I get into fashion week?
Really I have it down to a science now but i did a complete video series on this on my
Youtube Channel Fashion Steele NYC TV.
Video 1
Video 2
Video 3
It's really NOT that hard. All you have to do is the WORK.
Number one tip I'd give to someone wanting to break into fashion/fashion blogging?
Have thick skin. You will be told "no" a lot. Don't take things so personally. Be prepared for the sometimes brutal world of fashion. Blogging communities can be cliquish and sometimes down right childish. Just have thick skin…and always believe in yourself and remain positive.
I hope this post has helped all those who have emailed. With that being said…I just want to say THANK YOU to everyone who reads my blog and comments and emails and tweets and facebooks and just everything. It means a lot to me and is much appreciated. And if you are new…Welcome and I hope you'll stay awhile.
If you have any questions/comments I'd love to hear what you have to say.
Leave a comment for me.
xx
Monroe
NEW INVENTORY AT SHOP MY CLOSET!
Follow me on INSTAGRAM @monroesteele